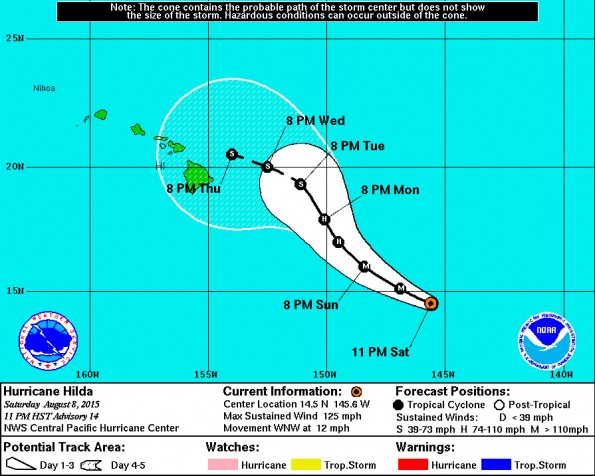 Hawaii County Civil Defense 12:30 p.m. Saturday (Aug 8) audio message on Hurricane Hilda
As of 11 p.m. HST Saturday (Aug 8) Hilda was reported to be a Category 3 Hurricane centered about 715 miles east-southeast of Hilo moving west-northwest at 12 mph.
Hilda has maximum sustained winds near 125 mph (205 km/h). Hurricane force winds extend outward up to 25 miles (35 km) from the center while tropical storm force winds extend outward up to 125 miles (205 km).
Hilda is forecast to gradually weaken Sunday with more significant weakening Monday.
For a reminder of how to prepare during this hurricane system read these tips by HELCO or go to our 'Be Prepared' menu near the top of this page for hurricane information.