By Baron Sekiya | Hawaii 24/7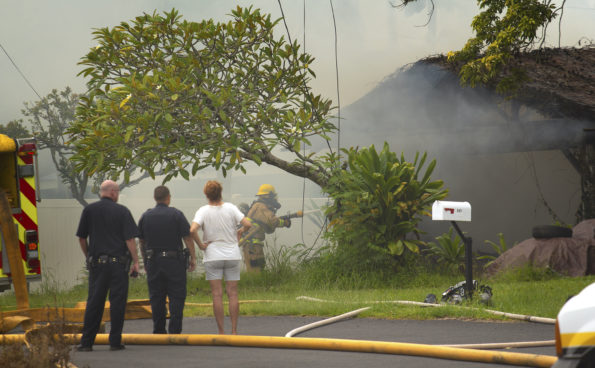 Firefighters responded to a 1:25 p.m. alarm Friday (Sept 20) at 545 Ocean View Drive in Hilo for a structure fire. Arriving units found a garage with attached residential unit burning. Smoke from the blaze could be seen throughout Hilo.
Firefighters were on scene within two minutes of the alarm and had the fire under control by 1:35 p.m and it was declared out at 1:43 p.m.
The fire caused $19,200 worth of damage with $157,500 saved by firefighting efforts. A live power line came down during the blaze and a neighbor's vinyl fence about 15-feet from the fire was damage as well as a car at the scene of the blaze.
Ocean View Drive was closed due to emergency vehicles and crews at the scene of the fire. There were no injuries reported and the cause of the blaze is under investigation. The owner of the property is the State of Hawaii under leased land by the DLNR.