By Hawaii 24/7 Staff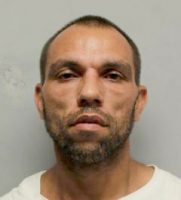 Police report shooting suspect Walter Gomes III was taken into custody and arrested without incident in the South Kona area by Kona Patrol officers Sunday, March 31, 2019.
Gomes has been the focus of a manhunt after being the suspect in a shooting of a Kailua-Kona woman on Wednesday, (March 20) who is recovering from a single gunshot wound. The 41-year-old Gomes was cornered by police in Kona on Thursday (March 21) but drove his vehicle at the officers, struck an officer's vehicle while officers opened fire as he fled the scene.
Later Thursday Gomes was seen in Kohala where officers pursued and shot at his vehicle. After ramming an officer's vehicle Gomes abandoned his car and fled into the brush and had not been seen until being found in Kona.
Police ask that anyone with information regarding this case contact the Police Departments non-emergency number at (808) 935-3311 or contact Lieutenant Roylen Valera at (808) 326-4646 ext. 230, or via email at roylen.valera@hawaiicounty.gov