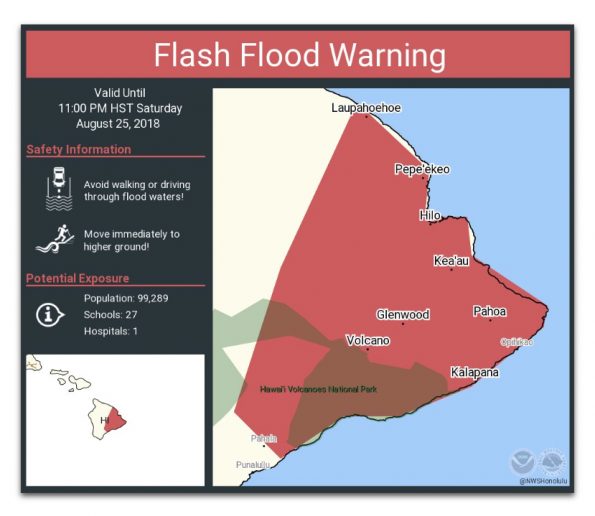 Hawaii County Civil Defense audio message
The latest map of road closures can be found here: www.hawaiicounty.gov/2018-hurr…
This is a Civil Defense road closure update for 8 p.m., Saturday, August 25, 2018.
The National Weather Service has extended the Flash Flood Warning until 11 PM. Hawaii Police department reports heavy rain in the Puna District, especially in Hawaiian Acres. Stay off the roads if possible. Road closures may occur at any time with no notice.
For your additional information:
The United States Postal Service reports that all post offices except Pepeekeo Post Office will deliver mail tomorrow. However, there are no retail services or mail pickup from blue USPS mailboxes.
State Highways reports that Highway 19 at mile marker 28-29 (Kaawalii Gulch) remains closed. This closure is to allow crews to remove a dangerous boulder from the hillside. It is unknown at this time how long the highway will be closed.
State Highways has installed a temporary traffic light on Highway 11 near mile marker 30 (Volcano Golf Course) due to a one lane closure. This closure will allow crews to make repairs to the earthquake and flood-damaged sections of the highway. Repairs are expected to last about two weeks. The current map of road closures can be found here: www.hawaiicounty.gov/2018-hurr…
Thank you and please be safe. This is your Hawaii County Civil Defense Agency.
Flash Flood Warning
Flash Flood Warning for Hawaii Island extended until 11 p.m. HST Saturday, August 25, 2018.
At 7:27 p.m. HST, radar and rain gauges showed persistent heavy rain over the lower Puna District. The most intense rainfall of 2 to 4 inches per hour was around Pahoa and Hawaiian Beaches, extending along Highway 130 toward Hawaiian Paradise Park. Hawaii County Civil Defense reports that flash flooding is occurring in this area. Additional rainfall is expected to move over the east-facing slopes of the Big Island through this evening.
Locations in the warning include but are not limited to… Hilo, Hawaiian Acres, Orchidlands Estates, Glenwood, Pepeekeo, Keaau, Hawaii Volcanoes National Park, Volcano, Laupahoehoe, Wood Valley, Hawaiian Paradise Park and Pahoa.
This warning may need to be extended beyond 11 p.m. HST if heavy rain persists.
Campers and hikers should avoid low lying flood prone areas. People should stay away from streams, drainage ditches and low lying areas prone to flooding. The rainfall and runoff will cause hazardous driving conditions due to ponding, reduced visibility, and poor braking action. Excessive runoff may cause rockslides and mudslides in steep terrain. Remember, if lightning does threaten your area, the safest place to be is indoors.
Debris in streams and gulches may clog bridges and culverts resulting in flooding outside normal water channels causing damage.
Do not cross fast flowing or rising water in your vehicle or on foot. Turn around, don't drown.
Flash Flood Watch
The Flash Flood Watch is now in effect for Kahoolawe, Kauai, Lanai, Maui, Molokai, Niihau, Oahu and the Big Island through Sunday afternoon (Aug 26)
Moisture remaining over the islands as Tropical Storm Lane departs will bring the potential for heavy rainfall through Sunday. Additional rain of 5 to 10 inches over windward Big Island and Maui, and 3 to 5 inches elsewhere through the weekend.
Rain events of this size cause widespread flooding and can affect areas that do not usually flood. Low spots in roads will become dangerous and impassible due to severe runoff. Debris in streams and gulches may clog bridges and culverts resulting in dangerous flooding.
Small Craft Advisory
A Small Craft Advisory is in effect for Hawaii Island leeward waters until 6 p.m. Sunday (Aug 26) for Kauai Northwest Waters, Kauai Windward Waters, Oahu Windward Waters, Kaiwi Channel, Maui County Windward Waters, Maui County Leeward Waters, Maalaea Bay-Pailolo Channel, Alenuihaha Channel, Big Island Leeward Waters, Big Island Southeast Waters.
Winds are forecast to be from the East at 15-25 knots with higher gusts. Seas are forecast to be 6-10 feet.
A Small Craft Advisory means that winds speeds of 25 to 33 knots and/or seas 10 feet or greater are expected to produce conditions hazardous to small craft. Inexperienced mariners, especially those operating smaller vessels, should avoid navigating in these conditions.
For links to the latest weather forecasts, reports, radar and satellite imagery visit our Weather Page at hawaii247.com/weather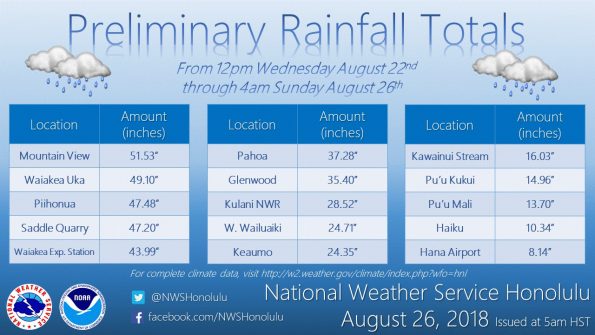 National Weather Service record set for Hilo
Record daily maximum rainfall set in Hilo and wettest three day period ever observed in Hilo.
A record rainfall of 15 inches was set at Hilo on August 24, 2018. This breaks the old daily record of 2.32 inches set in 1957 and was also the fifth wettest calendar day on record. The wettest day on record remains February 20, 1979 when 16.87 Inches of rain fell. Hilo also measured 31.85 inches of rain for the three day period of August 22-24 2018. This becomes the wettest three day period ever observed at Hilo with records dating back to 1949.