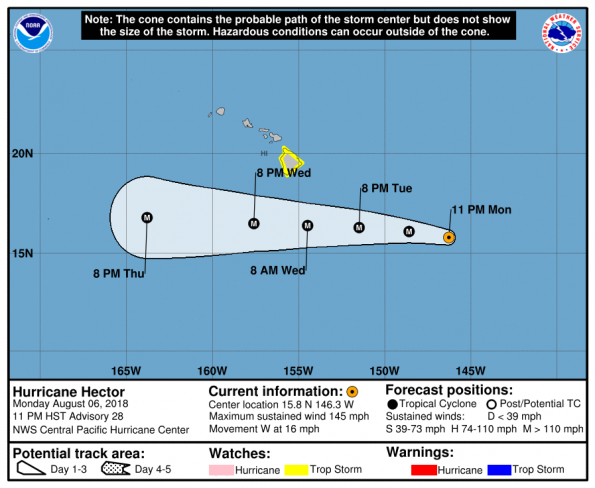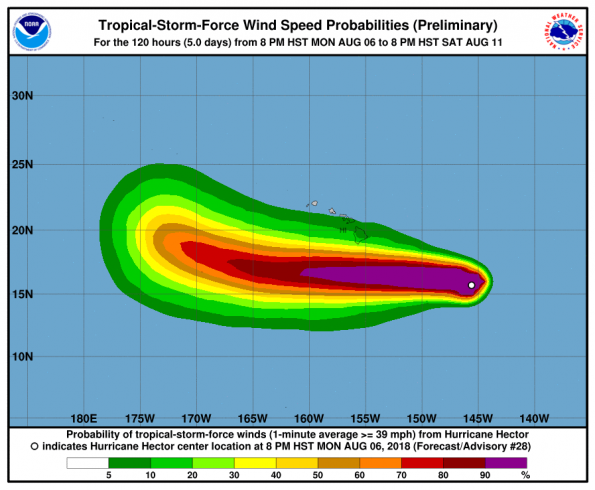 Hawaii County Civil Defense 5 p.m. audio message
A Tropical Storm Watch is in effect for Hawaii Island. A Tropical Storm Watch means that tropical storm conditions are possible within the watch area within 48 hours.
Interests elsewhere in the Hawaiian Islands should monitor the progress of Hector.
For storm information specific to your area, please monitor products issued by the National Weather Service office in Honolulu Hawaii.
At 11 p.m. HST (0900 UTC), the center of Hurricane Hector was located near latitude 15.8 North, longitude 146.3 West. Hector is moving toward the west near 16 mph (26 km/h). This motion is expected to continue through Tuesday, followed by a turn toward the west Tuesday night through Thursday. On the forecast track, Hector is expected to pass roughly 165 miles south of Hawaii Island on Wednesday.
Maximum sustained winds are near 145 mph (230 km/h) with higher gusts. Hector is a category 4 hurricane on the Saffir-Simpson Hurricane Wind Scale. Some weakening is forecast during the next 48 hours, but Hector is expected to remain a major hurricane.
Hurricane-force winds extend outward up to 35 miles (55 km) from the center and tropical-storm-force winds extend outward up to 105 miles(165 km).
The estimated minimum central pressure is 938 mb (27.70 inches).
Hector has shown little change in satellite imagery today and remains very impressive. Continuous bursts of lightning have been occurring within the eyewall, and the hurricane is maintaining an annular structure.
Hector is expected to remain a major hurricane during the next couple of days. The system is in a low vertical wind shear environment, and with nearby sea surface temperatures just over 81ºF (27ºC), Hector is near its maximum potential intensity according to the Statistical Hurricane Intensity Prediction Scheme (SHIPS) guidance. There will be only minor fluctuations in sea surface temperature during the next 72 hours and continued low vertical wind shear, though models indicate mid-level dry air affecting the hurricane. So far, this has not had much of an effect on Hector, leading to lower confidence in the intensity forecast. The forecast rate of weakening was decreased with this advisory and is line with the dynamical models while keeping Hector stronger than SHIPS and Logistic Growth Equation Model (LGEM) during the next 72 hours. Thereafter, little change in intensity is expected as sea surface temperatures increase along the track.
Hurricane Hector: Public urged to prepare
HONOLULU — National Weather Service (NWS) is issuing advisories on Hurricane Hector, located east-southeast of Hilo. Based on the latest forecast.
"Hector is our first hurricane this year. We want to remind the public we are in the middle of the hurricane season and we urge people to take the weekend to prepare their homes and families for impacts that could be felt statewide," said Tom Travis, Administrator of Emergency Management.
HI-EMA recommends residents and visitors take the following actions to prepare for any possible hurricane or tropical cyclone:
Prepare an "emergency kit" of a minimum of 14 days of food, water, and other supplies.
Talk with family members and develop a clear understanding of what you will do if a hurricane or tropical storm threatens. Prepare an action plan that includes details such as whether your family plans to shelter in place or evacuate.
Know if your home is in an inundation zone, flood zone, or susceptible to high winds and other hazards. Know if your home is retrofitted with hurricane resistant clips or straps.
Stay tuned to local media and their websites/applications regarding weather updates.
Sign up for local notification systems (i.e., HNL.Info).
Get to know your neighbors and community so you can help each other.
Walk your property and check for potential flood threats. Clear your gutters and other drainage systems. Remove and secure loose items. Keep your car gas tanks filled.
Prepare your pets by checking or purchasing a carrier and other preparedness items. A pet carrier is necessary for your pet's safety if you plan to evacuate to a pet-friendly shelter. Don't forget 14 days of food and water for your furry family members.
Set aside an emergency supply of any needed medication and keep a copy of your prescriptions in case you run out of medication after a disaster.
Secure your important documents in protective containers.
Visitors should download GoHawaii App and read the Hawaii Tourism Authority's Travel Safety Brochure at www.travelsmarthawaii.com.
Build an emergency kit – now.