Hawaii County Civil Defense interactive map of roadblocks, subdivisions, and eruption fissures: hawaii247.com/lavamap

USGS Resources related to the 2018 Kilauea Lower East Rift Zone eruption and Summit Activity

Kīlauea Eruption Information Resources: www.hawaiicounty.gov/lava-rela…
Kilauea Eruption Update

USGS Hawaiian Volcano Observatory status of Kilauea volcano in Hawaii on May 31, 2018 with Jessica Ball, USGS Volcanologist.

Scientists from the U.S. Geological Survey's Hawaiian Volcano Observatory are part of a 24 hour watch during the ongoing eruption on the lower east rift zone of the Kīlauea Volcano. Working in shifts they keep an eye on where the lava activity is and where it might move to.
This is a Civil Defense Message for 6:45 p.m., Thursday, May 31, 2018.
Hawaiian Volcano Observatory reports that vigorous lava eruptions continue in Leilani Estates and Lanipuna Gardens. Breaches in the channel formed by the Fissure 8 flow can happen without notice and result in rapid moving flows. Everyone is advised to stay away from active volcanic areas.
Due to the volcanic activity in the Kapoho area, the following policies are in effect:
Hawaii Fire Department has evacuated residents in homes along Papaya Farms Road and Noni Farms Road. Any residents remaining should evacuate now.
For Kapoho, Vacationland, and Government Beach Road, the following policy is in effect:
All residents of Vacationland and Kapoho Beach Lots are advised to evacuate and complete their evacuation by 6 p.m., tomorrow, Friday, June 1 or risk the possibility of being isolated.
Due to the active volcanic eruptions, Mayor Kim has issued a mandatory evacuation order for part of Leilani Estates. The following policies are in effect:
Mandatory evacuation is for areas east of Pomaikai Street in Leilani Estates.
Residents have until 12 noon, tomorrow, Friday, June 1 to evacuate the mandatory evacuation area.
Persons remaining in the mandatory evacuation area do so at their own risk with the knowledge that emergency responders may not be able to respond.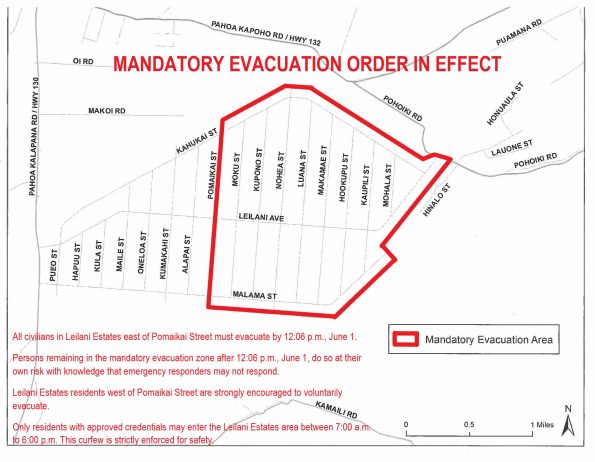 Due to the lava entry at the ocean, the following policies are in effect:
Access to the area is prohibited due to the laze hazard.
Stay away from any ocean plume since it can change direction without warning.
The U.S. Coast Guard is actively monitoring the ocean entry area and enforcing a 300-meter standoff zone. Only permitted tour boats are allowed in the area.
Health hazards of laze include lung, eye and skin irritation.
Be aware that the laze plume travels with the wind and can change direction without warning.
Get the latest Vog Predictions here: mkwc.ifa.hawaii.edu/vmap/
Sulfur Dioxide (SO2) and Vog
Volcanic gas emissions remain elevated throughout the area downwind of the vents in lower Puna.
Severe conditions may exist such as choking and inability to breathe.
Sulfur Dioxide (SO2) gas from fissures are especially dangerous for elderly, children/babies and people with respiratory problems.
County, State, and Federal partners continue to monitor the situation. You will be informed of any conditions that affect your safety.
Monitor vog levels and forecasts: People on Hawaii Island outside the area of volcanic activity are also advised to monitor levels of vog at vog.ivhhn.org
The residents of Puna are going through a very difficult time. We ask for your help and understanding.

Maps by USGS/Hawaiian Volcano Observatory of the Kilauea Eruption Lower East Rift Zone in Puna.