MEDIA RELEASE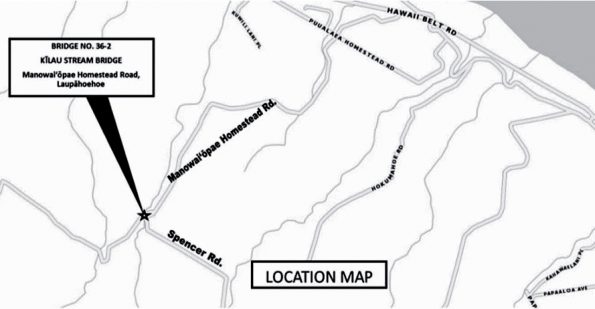 The Department of Public Works will begin work on the Kīlau Stream Bridge, located on Manowai'ōpae Homestead Road in Laupāhoehoe on Monday, September 11, 2017 through about October 31, 2017, weather and construction conditions permitting.
The bridge will be closed from 8:30 A.M. to 12:30 P.M., Monday through Friday, in which no pedestrians or vehicles will be allowed to use the bridge with the exception of emergency response teams during an emergency event. The bridge will be open during non-working hours, on weekends and holidays.
The repair work involves the rehabilitation of the existing bridge structure which includes replacing the old timber members with new timber members and hardware.
Motorist and residents are advised to exercise caution when traveling in the vicinity of the construction zone.
The County of Hawai'i Department of Public Works apologizes for any inconvenience this may cause and thanks the community for their patience and understanding. If there are any questions or concerns, please call Barett Otani, Information and Education Specialist, at 961-8787.