MEDIA RELEASE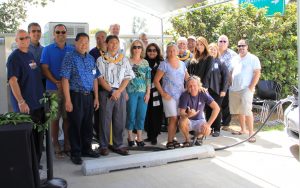 Hawai'i Electric Light announces the opening of a new utility-owned and operated electric vehicle DC fast charger accessible to the Hawai'i Island community. The company held a dedication ceremony for the unit located at KTA Super Stores in Waimea Center Friday (March 10). This is the first DC fast charger, also known as a Level 3 charger, to serve the Waimea community. The unit joins two fast chargers located at Hawai'i Electric Light's offices in Hilo and Kona.
"We're pleased to have KTA Super Stores as our first host on Hawai'i Island and applaud them for supporting electric transportation and clean energy," said Jay Ignacio, Hawai'i Electric Light president. "The Taniguchi family and their employees have humbly served island residents for more than a hundred years. KTA excels at anticipating and meeting customer needs, and this partnership is one example of their commitment to give back to the community in which they serve."
Hawai'i Electric Light operates the equipment at no cost to the host for installation, maintenance or electricity. Hosts provide the requested space and minimal assistance for operation. Hosting a fast charger helps with compliance of the Hawai'i state law that requires public parking lots with at least 100 parking spaces to have at least one exclusive parking space equipped with a charging station for electric vehicles. Additional host sites are being sought.
"We are excited to partner with Hawai'i Electric Light in helping to bring our North Hawai'i community its first Level 3 DC fast charger. Access to charging stations for electric vehicles gives our community more options and opportunities to support a clean environment," said Toby Taniguchi, KTA Super Stores president. "On behalf of KTA Super Stores, congratulations to Hawai'i Electric Light for their leadership in bringing North Hawai'i its first Level 3 DC fast charger to fruition."
Level 3 fast chargers can recharge a near-depleted EV battery to 80 percent capacity in about 30 minutes, and even less time for smaller recharges. The DC Fast Charger has both a CHAdeMO connection (used mostly by Nissan Leaf, Mitsubishi i-MiEV and Kia Soul EV) and a CCS connection (used by the BMW i3). The chargers are available 24/7 with three different rates ranging from $7.00 to $8.00 per session depending on time of use. Session prices may change based on the changing cost of electricity. Drivers will be able to safely operate the charger and pay by major credit card or by a Greenlots subscription.
"The Big Island Electric Vehicle Association (BIEVA) is committed to working with Hawai'i Electric Light and Nissan with helping to move the EV movement forward and that's the key thing," said Richard Castro, BIEVA vice president. "There are many road blocks with range anxiety but knowing these fast chargers are here makes a big difference."
To become a DC Fast Charger host site, call 808-969-0358 or mail Hawai'i Electric Light (GoEV), Engineering Department, P.O. Box 1027, Hilo, HI 96721. Detailed information on electric vehicles also is available at www.hawaiielectriclight.com/go…