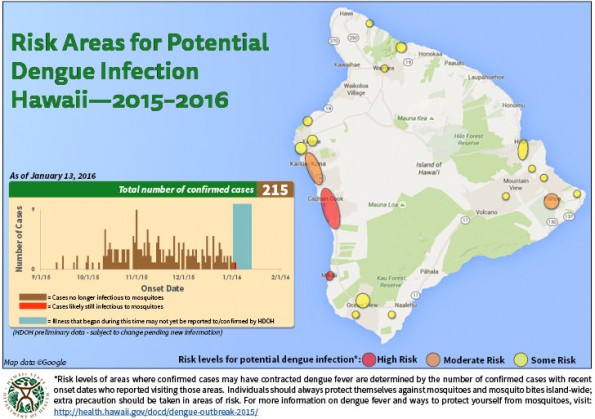 2:15 p.m. Hawaii County Civil Defense Dengue Fever audio update
As a precaution, the Waipio Valley Access Road and valley area has been closed to all traffic effective 2:30 p.m. today (Jan 13) and access will be limited to valley residents only. This restricted access will remain until further notice.
As of 1 p.m. today (Jan 13) the Department of Health reported two new confirmed cases of Dengue Fever. The total number of confirmed cases since the beginning of the outbreak rises to 215. These cases include 195 residents and 20 visitors.
Dengue Fever is a virus that is transmitted from an infected person to a mosquito, which can then infect another person. Dengue fever cannot be spread directly from person to person.
Symptoms of dengue include a high fever, intense headache and joint pain, and rash on the arms. If you suspect you may have dengue, contact your health care provider and remain indoors to prevent the possibility of being bitten and infecting mosquitoes.
The Department of Health is spraying and treating areas connected to confirmed cases to reduce mosquito populations. In addition, Civil Defense teams are inspecting areas of high mosquito presence reported by the community. If teams visit your home while you are away, they will leave a note – please follow the instructions on the note to contact the appropriate agency.
While these efforts lower risk by reducing mosquito populations, the most effective method to reduce the spread of dengue is for everyone to avoid and prevent mosquito bites. Fight The Bite by wearing clothing that minimizes exposed skin, using mosquito repellant, and avoiding activities in areas of high mosquito concentration during the early morning and late afternoon periods when mosquito activity is greatest.
For additional information on Dengue Fever and preventing the spread of Dengue Fever, go to health.hawaii.gov or call the Department of Health at 974-6001., Everyone's help and assistance with this outbreak is much needed and appreciated.
As of January 13, 2016: Since the last update, HDOH has identified 2 new cases of dengue fever. Currently, as many as 2 of the confirmed cases to date are potentially infectious to mosquitoes. All others are no longer infectious.
Potentially infectious individuals
2
Illness onset 1/3/16 to 1/8/16
Cases no longer infectious
213
Illness onset 9/11/15 to 1/2/16
Past and present confirmed cases (Cumulative TOTAL)
215
Of the confirmed cases, 195 are Hawaii Island residents and 20 are visitors. 174 cases have been adults; 41 have been children (less than 18 years of age). Onset of illness has ranged between 9/11/15 – 1/2/16.
As of today, a total of 884 reported potential cases have been excluded based on test results and/or not meeting case criteria
Hawaii State Department of Health continues to routinely monitor for cases of imported dengue infection on ALL islands and will continue to have Vector Control perform mosquito site assessments and abatement as needed. Since the beginning of our current investigation on Hawaii island, six imported dengue fever cases have been confirmed (four on Oahu, one on Maui, and one on Hawaii), and one imported chikungunya case (on Hawaii) has been confirmed. These cases are not associated with the Hawaii island investigation.
Call Aloha United Way 2-1-1 for general information about dengue fever and the current Big Island dengue investigation.
To report a suspect case, contact:
On the Big Island: 808-974-6001 (East Hawaii) or 808-322-4880 (West Hawaii)
On other islands: DOH Disease Outbreak Control Division at 808-586-4586.
To report mosquito concerns, contact:
On the Big Island: 808-974-6001 (East Hawaii) or 808-322-4880 (West Hawaii)
On Oahu: 808-586-8021, on Maui: 808-873-3560, on Kauai: 808-241-3306
If you are ill and are worried that you might have dengue fever, contact your healthcare provider.
Clinicians: for updates go to health.hawaii.gov/docd/updates…