A flood advisory is in effect for Hawaii Island until 2 a.m. Saturday (Oct 17).
At 10:55 p.m. weather radar indicated heavy rain from thunderstorms that will cause localized flooding in parts of the advisory area. Areas of heavy rain were located just north of Hilo and over parts of the Ka'u district north of South Point. Radar was showing rain falling at one-half to one inch per hour.
Locations in the advisory include but are not limited to, Hilo, Hawaiian Paradise Park, Kapaau, Honokaa, Kamuela, Honomu…Keaau and Naalehu.
This warning may be extended beyond 2 a.m. should heavy rains persist.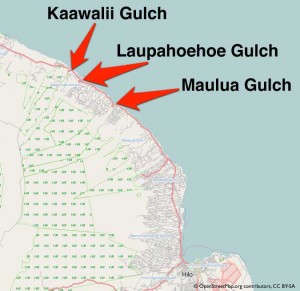 UPDATED (10:20 p.m. on 10/16/2015)

Both lanes of Highway 19 at Kaawalii Gulch have been reopened.
Campers and hikers should avoid low lying flood prone areas. People should stay away from streams, drainage ditches and low lying areas prone to flooding. The rainfall and runoff will cause hazardous driving conditions due to ponding, reduced visibility and poor braking action. Excessive runoff may cause rockslides and mudslides in steep terrain.
Debris in streams and gulches may clog bridges and culverts resulting in flooding outside normal water channels causing damage.
Do not cross fast flowing or rising water in your vehicle or on foot. Turn around, don't drown.
For links to the latest weather forecasts, reports, radar and satellite imagery visit our Weather Page at hawaii247.com/weather