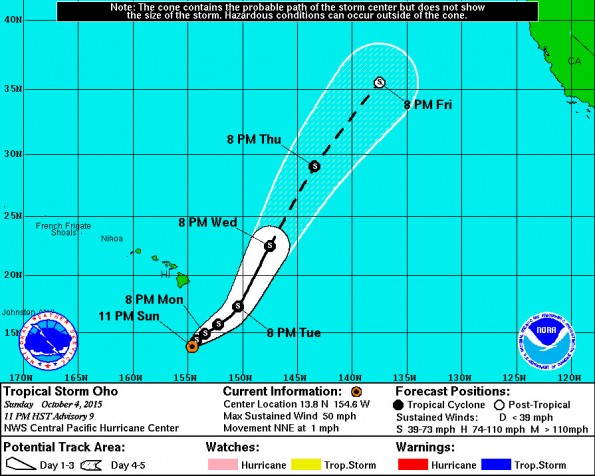 As of 11 p.m. Sunday (Oct 4), Tropical Storm Oho was located about 410 miles (660 km) south of Hilo on Hawaii Island and moving towards the north northeast at 1 miles per hour (2 km/hr).
Presently Oho is recording sustained winds of about 50 miles per hour (85 km/hr) with higher gusts. Tropical storm force winds extend outward up to 115 miles (185 km) from the center. The latest forecast indicates Oho will have a difficult time becoming a hurricane due to wind shear tearing it apart. Currently showers and thunderstorms have been re-developing near the center of the system.
Currently no watches or warnings have been issued for Oho.
For a reminder of how to prepare for a possible tropical storms and hurricanes read this or go to our 'Be Prepared' menu near the top of this page.