By Baron Sekiya & Karin Stanton | Hawaii 24/7
The National Oceanic and Atmospheric Administration (NOAA) released a forecast Thursday (Sept. 10) showing a 95 percent chance El Niño conditions will continue through the Northern Hemisphere through winter 2015-16 and gradually weaken into spring of 2016.
This El Niño period of warm ocean temperatures is the third strongest (1.22ºC above normal) since record keeping began in 1950. The strongest being in 1997 (1.42ºC) and second the year 1987 (1.36ºC).
In past El Niños warmer than average Pacific Ocean temperatures have coincided with large coral bleaching episodes (coral die-offs). The warmer waters can also affect fisheries, seaweed farms, ocean mammals and birds.
As of Thursday (Sept 10), nine named hurricanes have been recorded in the Pacific. The warm ocean waters are powering storms and have reduced the vertical wind shear, which normally tears apart hurricanes. El Niño conditions favor the formation of tropical cyclones.
According to Robert Ballard, Science & Operations Officer at the Central Pacific Hurricane Center, the entire state will continue to see local weather impacts from an unusually strong El Niño in the form of long, persistent absences of the trade winds.
"There's also an abundance of moisture near the islands keeping it humid and making conditions conducive for intense, localized rainfall and very unusual summer thunderstorms at times. We have had well above normal tropical cyclone activity in the vicinity of the state again this year, and this heightened risk for nearby hurricanes will likely persist for the rest of the season," Ballard said.
Some of the region's most destructive hurricanes have come during the middle-to-latter part of El Niño seasons, so Ballard encourages residents to remain prepared and to not let their guard down.
"Although hurricane season ends Nov. 30, the sea surface temperatures are expected to remain warm enough that we could see out-of-season tropical cyclone activity in the basin after the season ends," he said. "Another thing to consider is that we expect that as we head into winter – our normal wet season – our weather pattern might switch to being quite dry as winter fronts and storm systems are typically weaker and/or avoid Hawaii during the time of year when we usually get the most rainfall.
"This could return drought to some areas as we head into the spring of 2016, leading to water resource issues and increased number of brush fires," Ballard said, adding that the north shore swells typically are bigger during El Niño winters.
The uncomfortable conditions in Hawaii are due to higher temperatures and higher humidity which has lead to higher heat indexes (feels like temperatures) in the islands. Hilo has been breaking temperature records this summer. In the chart below you can see why a day in Hilo at 86ºF (30ºC) and 70 percent humidity feels like 95°F (35°C).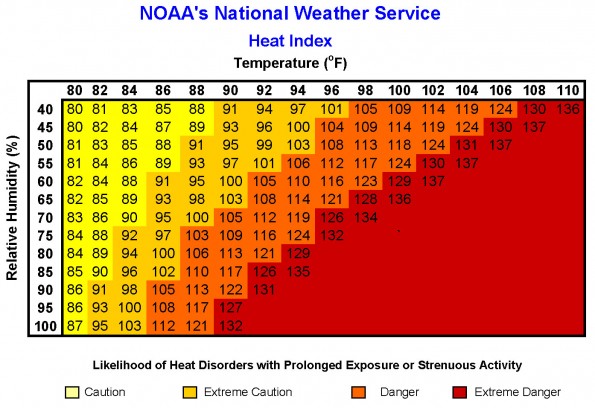 Some tips by the National Weather Service during our hot weather:
Slow down: reduce, eliminate or reschedule strenuous activities until the coolest time of the day. Children, seniors and anyone with health problems should stay in the coolest available place, not necessarily indoors.
Wear lightweight, loose fitting, light-colored clothing to reflect heat and sunlight.
Eat light, cool, easy-to-digest foods such as fruit or salads. If you pack food, put it in a cooler or carry an ice pack. Don't leave it sitting in the sun. Meats and dairy products can spoil quickly in hot weather.
Drink plenty of water (not very cold), non-alcoholic and decaffeinated fluids, even if you don't feel thirsty. If you on a fluid restrictive diet or have a problem with fluid retention, consult a physician before increasing consumption of fluids.
Use air conditioners or spend time in air-conditioned locations such as malls and libraries.
Use portable electric fans to exhaust hot air from rooms or draw in cooler air.
Do not direct the flow of portable electric fans toward yourself when room temperature is hotter than 90°F. The dry blowing air will dehydrate you faster, endangering your health.
Minimize direct exposure to the sun. Sunburn reduces your body's ability to dissipate heat.
Take a cool bath or shower.
Do not take salt tablets unless specified by a physician.
Check on older, sick, or frail people who may need help responding to the heat. Each year, dozens of children and untold numbers of pets left in parked vehicles die from hyperthermia. Keep your children, disabled adults, and pets safe during tumultuous heat waves.
Don't leave valuable electronic equipment, such as cell phones and gps units, sitting in hot cars.
Make sure rooms are well vented if you are using volatile chemicals.
For more heat health tips, go to the Centers for Disease Control and Prevention