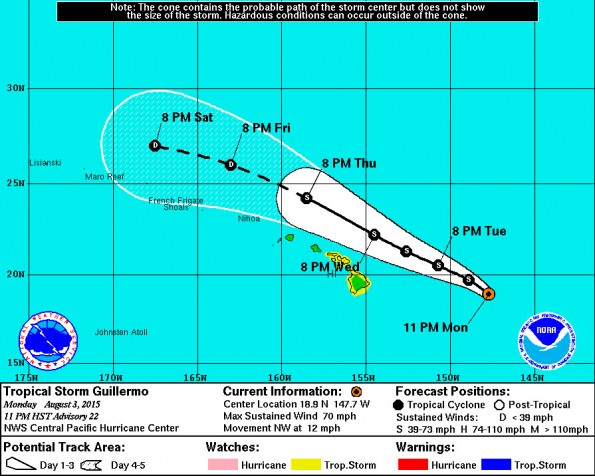 Hawaii County Civil Defense 5:15 p.m. message on the Tropical Storm Watch in effect
UPDATED (11 p.m. on 8/3/2015)
A Tropical Storm Watch has been issued by the Central Pacific Hurricane Center for Hawaii and Maui counties. Tropical Storm Guillermo was located 480 miles east of Hilo, moving northwest near 12 mph.
Tropical Storm Guillermo currently has maximum sustained winds of 70 mph. These tropical storm force winds extend outward up to 160 miles (260 km) from the center. Guillermo is forecast to track 170 northeast of Hilo Wednesday afternoon. Do not just concentrate on the center of the system. The CPHC may issue a coastal watch status later today.
A high surf advisory has been issued for north and east shores of Hawaii Island due to surf generated by Guillermo.
Although Guillermo is a Tropical Storm residents should be on alert due to strong winds, rains, lightning strikes and ocean surf which can create dangerous and deadly conditions.
For a reminder of how to prepare during this hurricane system read these tips by HELCO or go to our 'Be Prepared' menu near the top of this page for hurricane information.

Time lapse infrared movies of the Pacific Ocean with Hurricane/Tropical Storm Guillermo. Images courtesy of NRL Monterey

Hurricane/Tropical Storm Guillermo follows 'hurricane alley' across the Pacific on track towards Hawaii. August 1-4, 2015. Video of GOES-15 Satellite imagery via NOAA-NASA GOES Project