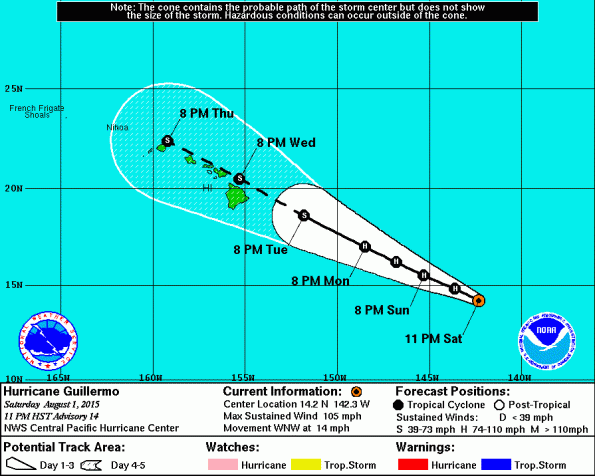 Hawaii County Civil Defense 5:15 p.m. message on Hurricane Guillermo
UPDATED (11:05 p.m. on 8/1/2015)
Hurricane Guillermo's progress west is slowing slightly and is still a Category Two hurricane. Guillermo is expected to remain a hurricane through Monday (Aug 3).
As of 11 p.m. HST Saturday (August 1) the center of Hurricane Guillermo was located about 920 miles east-southeast of Hilo, Hawaii with maximum sustained winds of 105 mph. Hurricane force winds extend outward up to 25 miles (35 km) from the center and tropical storm force winds extend outward up to 115 miles (185 km). The CPHC is forecasting Tropical Storm force winds as it reaches the Big Island. Do not just concentrate on the center of the system.
Although forecasts are for Guillermo to be a Tropical Storm when it reaches Hawaii residents should be on alert due to strong winds, rains, lightning strikes and ocean surf which can create dangerous and deadly conditions. Should the progress of Guillermo moving west slow this could create winds, heavy rainfall and large waves over a longer period of time. Residents should on alert for flooding conditions.
It should be noted that Iselle was a Tropical Storm when it reached Hawaii Island in 2014, it was not a hurricane, yet it caused considerable damage due to the strong winds. The time to prepare is now.
For a reminder of how to prepare during this hurricane system read these tips by HELCO or go to our 'Be Prepared' menu near the top of this page for hurricane information.

Hurricane Guillermo follows 'hurricane alley' across the Eastern Pacific on track towards Hawaii. July 30 to August 2, 2015. Video of GOES-15 Satellite imagery via NOAA-NASA GOES Project
---
2014 Path for Tropical Storm Iselle (formerly Hurricane Iselle) which made landfall on Hawaii Island