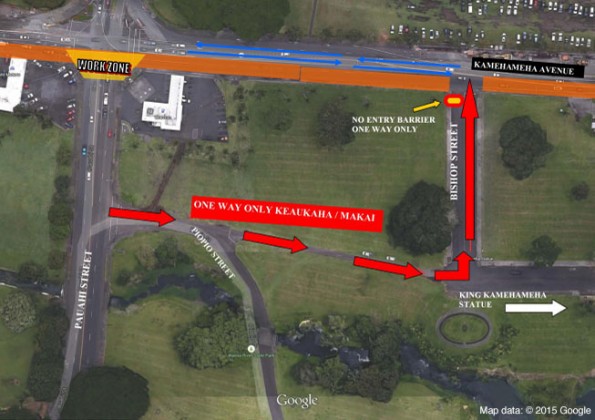 MEDIA RELEASE
Access to Pauahi Street from Kamehameha Avenue will be closed for construction activities from Monday, July 13, 2015 at 8 p.m. and reopen on Saturday, July 18, 2015 at 7 a.m.
The purpose of the closure is to reconstruct and pave the mauka (mountain side) half of Kamehameha Avenue at the Pauahi Street intersection, weather and construction conditions permitting.
Motorists entering the Pauahi Intersection from Bayfront Highway will only be allowed to turn left or right onto Kamehameha Avenue. East and West-bound motorists traveling along Kamehameha Avenue will only be allowed to travel straight through the intersection or turn onto Bayfront Highway. Motorists will not be allowed to enter Kamehameha Avenue from Pauahi Street but will still be able to use Ponahawai Street, Mamo Street, Haili Street, or Waiānuenue Avenue as alternate routes to the downtown area. This closure is necessary to complete the intersection paving work in a timely manner and for the safety of the traveling public.
Access to Chevron, Bayfront Motors, and the King Kamehameha Statue will be provided via Pauahi Street.
Access to the King Kamehameha Statue from Pauahi Street and Piopio Street will be one-way only in the makai (ocean) direction. See attached diagram which shows traffic pattern with red arrows.
Motorists are advised to expect traffic delays and to leave early if driving through the work zone. Please plan to take an alternate route when possible. We apologize for any inconvenience and ask for your cooperation.
For more information contact Isemoto Contracting Co. Ltd at 935-7194.