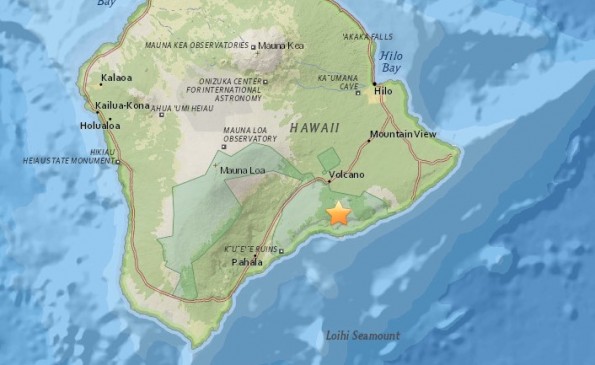 Magnitude
5.2
Time
2015-06-28 08:10:10 (UTC)
2015-06-27 22:10:10 HST
Nearby Cities
11km (7mi) SSE of Volcano, Hawaii
38km (24mi) SW of Hawaiian Paradise Park, Hawaii
46km (29mi) SSW of Hilo, Hawaii
89km (55mi) ESE of Kailua-Kona, Hawaii
353km (219mi) SE of Honolulu, Hawaii

Hawaii County Civil Defense Message
TSUNAMI SEISMIC INFORMATION STATEMENT NUMBER   1
NWS PACIFIC TSUNAMI WARNING CENTER EWA BEACH HI
1011 PM HST SAT JUN 27 2015

TO - EMERGENCY MANAGEMENT IN THE STATE OF HAWAII

SUBJECT - LOCAL TSUNAMI INFORMATION STATEMENT

THIS STATEMENT IS FOR INFORMATION ONLY. NO ACTION REQUIRED.

AN EARTHQUAKE HAS OCCURRED WITH THESE PRELIMINARY PARAMETERS

   ORIGIN TIME - 1010 PM HST 27 JUN 2015
   COORDINATES - 19.3 NORTH  155.2 WEST
   LOCATION    - IN THE HILINA REGION OF KILAUEA VOLCANO
   MAGNITUDE   - 4.8

EVALUATION

 NO TSUNAMI IS EXPECTED. REPEAT. NO TSUNAMI IS EXPECTED.
 HOWEVER...SOME AREAS MAY HAVE EXPERIENCED SHAKING.

THIS WILL BE THE ONLY STATEMENT ISSUED FOR THIS EVENT UNLESS
ADDITIONAL DATA ARE RECEIVED.
According to the United States Geological Survey 'Did You Feel It?' website and via social media the quake was felt island-wide as it lasted a few seconds. Objects fell and buildings rumbled in East Hawaii during the quake. One person reported on Hawaii 24/7's Facebook page that they fell out of their shower as their house shook.
USGS: How large does an earthquake have to be to cause a tsunami?

Magnitudes below 6.5
Earthquakes of this magnitude are very unlikely to trigger a tsunami.

Magnitudes between 6.5 and 7.5
Earthquakes of this size do not usually produce destructive tsunamis. However, small sea level changes may be observed in the vicinity of the epicenter. Tsunamis capable of producing damage or casualties are rare in this magnitude range but have occurred due to secondary effects such as landslides or submarine slumps.

Magnitudes between 7.6 and 7.8
Earthquakes of this size may produce destructive tsunamis especially near the epicenter; at greater distances small sea level changes may be observed. Tsunamis capable of producing damage at great distances are rare in the magnitude range.

Magnitude 7.9 and greater
Destructive local tsunamis are possible near the epicenter, and significant sea level changes and damage may occur in a broader region.

Note that with a magnitude 9.0 earthquake, the probability of an aftershock with a magnitude exceeding 7.5 is not negligible. To date, the largest aftershock recorded has been magnitude 7.1 that did not produce a damaging tsunami.