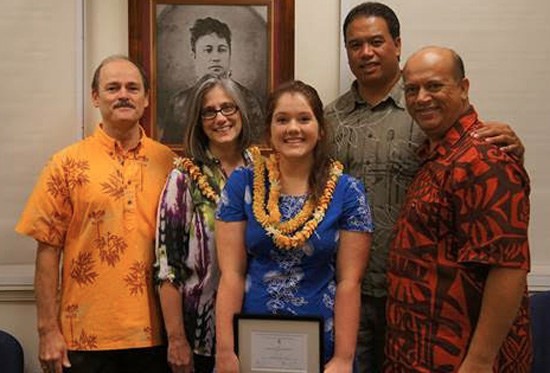 MEDIA RELEASE
Kamehameha Schools Hawaii campus principal Kumu Lehua Veincent has announced senior Lily P. Ayau has been named a Commended Student in the 2015 National Merit Scholarship Program.
A Letter of Commendation from the school and National Merit Scholarship Corporation (NMSC), which conducts the program, was presented to this scholastically talented student from Hilo.
"On behalf of the student body and faculty and staff of Kamehameha Schools Hawaii, we send our deepest aloha to Lily and her ohana as a Commended Student in the 2015 National Merit Scholarship Program," said Veincent. "This honor will open the portals of academic opportunities for Lily in her pursuit within the post-secondary arena. Nui ko makou haaheo ia oe e Lily. E hoomau oe a pae i ke one o ka lanakila! We are very proud of you, Lily. Continue to persevere until you arrive upon your shores of victory."
About 34,000 Commended Students across the nation are being recognized for their exceptional academic promise. Although they will not continue in the 2015 competition for National Merit Scholarship awards, Commended Students placed among the top five percent of more than 1.5 million students who entered the 2015 competition by taking the 2013 Preliminary SAT/National Merit Scholarship Qualifying Test.
Ayau is a 13-year student of the KS Hawaii campus. Born and raised in Hilo, Ayau is looking to study history on the East Coast, and is currently looking at Amherst, Dartmouth and Columbia as possible next destinations.
"I'm incredibly honored to represent Kamehameha Schools in receiving this commendation," shares Ayau. "KSH has always served as a home for me, and the teachers there helped to foster a sense of curiosity within me that without which I could not have achieved this distinction. I'm so humbled by the hard work of the faculty and staff in their dedication to students' learning. It's thanks to them that I am who I am today."
Lily is the daughter of Gregory and Judi Ayau.