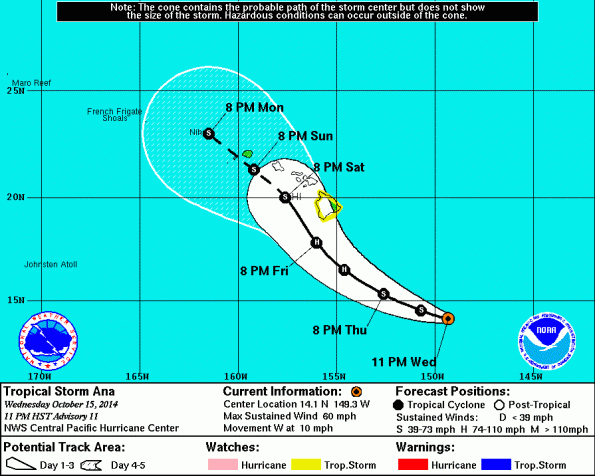 Civil Defense Tropical Storm Ana Audio Update for 4:30 p.m. Oct 15, 2014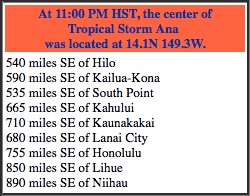 UPDATED (11:18 PM on 10/15/2014)
The National Weather Service in Honolulu reports Tropical Storm Ana has maximum sustained winds near 60 mph with higher gusts. Ana is forecast to gradually intensify and become a hurricane by Friday (Oct 17).
Tropical Storm force winds are currently extending outward up to 60 miles from the center of the system. Ana is moving West near 10 mph and is forecast to pass near the Big Island Friday night and Saturday.
Hawaii County Civil Defense Message for 4:30 p.m. Wednesday (Oct 15).
The National Weather Service will be placing the Island of Hawaii under at tropical Storm Watch effective 5:00 pm today.
Tropical Storm Ana was located approximately 630 miles East Southeast of Hilo and moving West at nine miles per hour. Presently the system is showing sustained winds of 70 miles per hour with higher gusts. In addition to the high winds, high surf and storm surge may be expected as well as heavy rains and thunder showers. We are asking Hawaii Island residents to monitor your local radio broadcasts for updates and to prepare for possible storm conditions which could begin to affect the Big Island by Friday (Oct 17). Residents in the shoreline communities of Punaluu in Ka'u and the Kalapana, Kapoho, and Pohoiki areas of Puna are advised to take precautions and to move to higher ground. Surf heights of 25 to 40 feet are currently forecasted for the southeast facing shores of Hawaii Island.
Due to the expected impact of the storm the following closures will begin Friday, October 17, and will remain closed until further notice:
All county and state beach parks on the island of Hawaii
All DOE public schools on the island of Hawaii
Kua O Ka La New Century Public Charter School
Na Wai Ola Public Charter School
Additionally, all inter-scholastic athletic events and student activities are canceled beginning tomorrow, Thursday October 16 and continue through the weekend, resuming when schools reopen. ​
Additional updates will be broadcasted as information becomes available.
Learn about hurricanes and how to prepare here: hawaii247.com/national-weather…
For a reminder of how to prepare for a possible hurricane read this or go to our 'Be Prepared' menu near the top of this page.
See current Central Pacific Hurricane Center tracking map here.
For links to the latest weather forecasts, reports, radar and satellite imagery visit our Weather Page at hawaii247.com/weather/