—
USGS/Hawaiian Volcano Observatory Kilauea Status Update for 9:32 a.m., Saturday, September 13, 2014
Current Volcano Alert Level: WARNING
Current Aviation Color Code: ORANGE
June 27th Lava Flow Observations: The June 27th lava flow remains active. An HVO overflight yesterday at 12:30 pm showed the flow front was still moving in a general northeast direction, bringing it closer to the western boundary of Kaohe Homesteads (which is the eastern boundary of the Wao Kele o Puna forest reserve). The flow front at that time was 14.9 km (9.3 miles) from the vent, measured in a straight line, and 170 m (0.1 miles) from the Forest Reserve/Kaohe Homesteads boundary. The actual length of the flow, measured along the lava tube axis (so that bends in the flow are considered) is 17.1 km (10.6 miles). Between September 6 and 10, the flow front advanced at approximately 400 meters (460 yards) per day. Between September 10 and 12 the advance rate dropped to approximately 250 meters (270 yards) per day. The flow front is still in thick forest, creating smoke plumes as it engulfs trees and other vegetation, but fires are not spreading away from the flow.
Small breakouts also remain active closer to Puʻu ʻŌʻō, roughly midway along the length of the June 27th flow. None of these breakouts have been very vigorous recently, but are also producing smoke plumes as they creep into the adjacent forest.
Puʻu ʻŌʻō Observations: There was slight deflationary tilt at Puʻu ʻŌʻō over the past day. Glow was visible overnight above several outgassing openings in the crater floor. Aerial views yesterday found small lava ponds within the northeast, north, south and southeast pits. The most recent sulfur-dioxide emission-rate measurement for the East Rift Zone was 400 tonnes per day (from all sources) on September 2, 2014.
—
Hawaii County Civil Defense Eruption Audio Update for September 13, 2014
Hawaii County Civil Defense Eruption and Lava Flow Information Update for Saturday, September 13, 2014 at 8:30 a.m.
The current assessment shows the surface lava flow continues towards the northeast and has advanced approximately 150 yards since yesterday. Presently the leading edge of the surface flow is located approximately 0.2 miles from the northwest or upper corner of the Wao Kele Forest Reserve and Kaohe homesteads boundary. Currently the flow does not pose and immediate threat to area communities however residents of the Kaohe Subdivision are advised to monitor the local radio broadcasts for further updates and for possible evacuation instructions if conditions change. Residents will be given adequate notice to safely evacuate should that be necessary. Personnel of the Civil Defense Office will be continuing door to door notification in the North Road area of Kaohe Homesteads.
There is no brushfire threat at this time and all burning is limited to the vegetation that is in direct contact with the flow. Smoke conditions may be moderate to heavy depending on wind conditions. During periods of heavy smoke conditions the department of Health and American Lung Association have provided the following recommendations:
Remain indoors and limit or avoid outdoor activities.
If possible close all windows and if available use air conditioners on a recirculation setting.
If driving through areas of heavy smoke keep windows closed and if available use the air conditioner on the recirculation setting.
If symptoms or discomforts increase to seek medical attention and leave the area.
Residents in the subdivisions of Hawaiian Beaches and Hawaiian Paradise Park are advised that construction activities on the Railroad Avenue and Government Beach Road have started and will be running continuously through the weekend and next week. These activities are to establish alternate road access in the event Highway 130 is affected by the lava flow.
The public is reminded that the flow cannot be accessed and is not visible from any public areas. Access to the Kaohe Homesteads subdivision will be restricted and limited to subdivision residents only.
—

Lava flow progression slideshow
(Alternate map here for those having problems seeing the contour lines)
—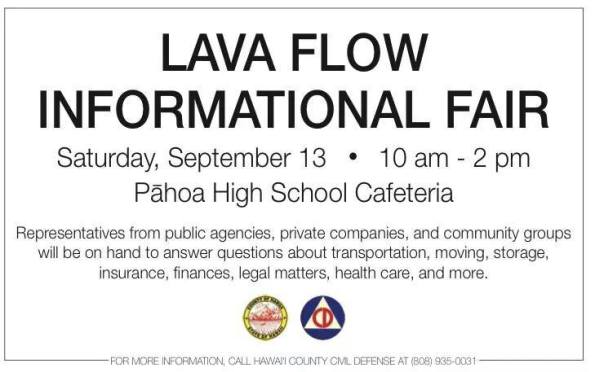 —
View
Alternate Routes In/Out of Lower Puna
in a larger map
Potential evacuation routes/alternative roads DPW, DLNR and DOT are looking at. NOTE: Routes in Pink are aproximate drawings from a County map presented. Railroad Avenue and Beach Road are existing but would need to be improved.
—
A list of questions and answers between Hawaiian Paradise Park Owners Association and Warren Lee, Director of Hawaii County Public Works regarding the re-establishment of Railroad Avenue and Beach Road.
—
A message from Aloha Broadband regarding Internet access
We purchase our bandwidth from Oceanic Time Warner Cable. Our main connection to their backbone comes from Hawaiian Paradise Park. Fortunately, that connection will not be affected if the current path of the lava flow continues. We can also set up another link directly from Hilo if needed. From HPP, our primary link feeds into our tower near the Geothermal hill (next to the AT&T tower).
We are currently in the process of converting our towers in lower Puna to solar so if/when the power is knocked out, our service will stay up. We should have this done by the end of next week. Customers in Puna can be assured that if you can power your antenna, you will have internet service.
We are also looking into setting up some emergency open WiFi Hotspots for those people that do not have our service, but need to communicate.
I have emailed Mayor Billy Kenoi's office to let them know Aloha Broadband is here and willing to help in any way we can.
Please also note, we will be temporarily suspending new installations until we can make sure our infrastructure is ready.
Please feel free to ask any questions.
You can email us at support@alohabroadband.net We'll also be posting updates on our Facebook page: www.facebook.com/pages/Aloha-B…
Mahalo,
Elton Wilson
Owner
Aloha Broadband
—
AMERICAN LUNG ASSOCIATION WARNS OF HEALTH EFFECTS FROM SMOKE

The American Lung Association in Hawaii warns visitors and people living near the lava flow in Puna to take precautions against smoke exposure from burning vegetation and low levels of sulfur dioxide.
This smoke is a mixture of gases and fine particles released as vegetation burns. In addition to burning your eyes, these fine particles and gases can be inhaled deeply into your lungs, making it harder to breathe.
Exposure can worsen other chronic health conditions such as asthma or heart disease.
Exposure to sulfur dioxide, a gas emitted by volcanoes, can also be harmful, burning the nose and throat and causing breathing difficulties.
Residents with respiratory problems such as asthma, chronic obstructive pulmonary disease (COPD), and also those with chronic heart disease should take extra precautions during this time and call their physician immediately if problems develop.
"Even those without lung diseases may be at risk during this time," said Kim Nguyen, Executive Director of the American Lung Association in Hawaii. "With exposure to smoke, there is an increased risk of dangerous health effects ranging from respiratory tract irritation to more serious illness, including reduced lung function, bronchitis, worsening of asthma, and premature death. This is especially true for children, older adults and outdoor workers."
People living near affected areas are encouraged to do the following:
Stay inside as much as possible, with doors and windows shut. Make sure only clean air circulates through air conditioners and/or air cleaners by using the recirculation setting.
When driving through smoky areas, car windows and vents should be kept closed. Air conditioning should be set to "recirculate" to avoid exposure to unhealthy outside air.
Avoid exercising outdoors, particularly if you smell smoke or experience eye or throat irritation.
Individuals with asthma are encouraged to contact their physician regarding any changes in medication they may need to cope with smoky conditions. The American Lung Association advises asthma patients who cannot reach their doctor to continue to take their medication and closely follow their asthma action plan as prescribed.
If you have questions, you can call the American Lung Association's Lung HelpLine at 1-800-LUNG-USA (choose option #2) to speak to a lung health expert.
For more information about the American Lung Association in Hawaii or to support the work it does, call (808) 537-5966 or visit www.lung.org/hawaii
—
HAWAII ISLAND HUMANE SOCIETY
Unpredictable lava flows remind us that upfront planning now can ease stressful situations should there be a need to evacuate. As Benjamin Franklin once said, "An ounce of prevention is worth a pound of cure."
The Hawaii Island Humane Society has a few tips to help keep animals safe in the event of an evacuation:
HIHS encourages all pet owners to be safe and prepared. If you are advised to evacuate, please consider your pet's safety. Do not leave animals behind.
Develop a plan for their ongoing care including transportation arrangements.
Larger animals including horses and livestock may need to be moved well in advance. Call friends or family members to locate alternate pastures.
Gather items for your pet's emergency kit –
Crate
Leash
Food
Water
Towel
Identification
Medication (if applicable)
If you evacuate, arrive at your destination prepared with your pet's emergency kit and take your pets!
The mission of the Hawaii Island Humane Society is to promote respect for all animals, prevent cruelty to animals, eliminate pet overpopulation, and enhance the bond between humans and animals. HIHS holds a contract with the County of Hawaii to enforce certain animal-related laws and it offers 24-hour service for injured animals and other animal emergencies, humane education classes, low-cost spay and neuter services, lost and found assistance, micro-chipping and more.
For further information, call 808-329-1175 or visit www.hihs.org
—
Hui Pono Holoholona offering temporary shelter to cats displaced by lava. Owners provide food, litter, medications.
Email: lava@hphhawaii.org
—
HelpPuna.com Helps Animal Evacuation

The June 27 lava flow poses a threat to farms and homes in the Puna area near Pahoa. Since this flow is in an agricultural area, it also threatens farm animals such as chickens, ducks, sheep, goats, horses, pigs, in addition to dogs and cats.
All these animals would need to be evacuated in the event of an approaching lava flow. As people prepare for possible evacuation, they need to prepare and plan for evacuating their livestock and pets, too.
Finding accommodations for displaced people and their animals could become a major challenge as this lava flow continues. H.E.L.P. Puna is providing a free website service for residents who need to find places to protect their animals, and other residents in safe areas who wish to offer their properties as "Places of Refuge".
H.E.L.P. is the Hawaii Evacuation of Livestock and Pets, a program of the Good Shepherd Foundation, a nonprofit organization with an animal sanctuary in Opihikao, not far from the lava flow.
Everyone is invited to offer their property as a haven from the lava flow for any livestock and pets they can accommodate. Some will be willing to accept only certain types of animals, such as dogs or cats. Others may have large fenced pastures or yards where they can take horses, sheep, or goats. Still others may have small backyards where they can only take chickens.
Those offering their places as refuges can do so for free or for a fee. It is between the parties to decide all financial issues and ensure there is a good fit.
We also invite those with animal trailers to offer their services on this website. Some people will need help moving their animals.
— Find out more:
www.HelpPuna.com