MEDIA RELEASE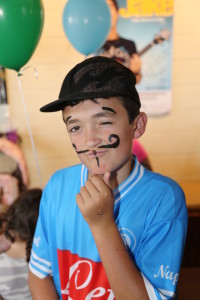 Students entering grades 3-6 are invited to apply to the "Keiki Performing Arts Workshop" from July 28 to August 10 at Kahilu Theatre. This is a free two-week summer musical theatre and performing arts camp from 10am to 2:30pm, Monday through Saturday.
Founded in 2011, KPAW introduces children to different aspects of the performing arts. As schools have been forced to cut arts education, Kahilu Theatre is filling this gap by providing diverse arts education for youth.
After a physical warm-up, KPAW students participate in numerous acting games that involve physical awareness, improvisation and quick thinking. They rehearse music numbers each day, learning lyrics, tunes and choreography for the numbers. Students also explore theatre related arts and crafts, including costuming and set design. The final performance will be on Sunday, August 10th as part of Kahilu Theatre's Family Fun Day.
Keiki Performing Arts Workshop was founded by Marena Dunnington and the teens of the Teen Theatre Troupe, now the Kahilu Youth Theatre Troupe. From Waimea, Marena is now a junior at Muhlenberg College, studying theatre and education. Performing since age three, Marena's greatest joy is working with kids in a theatrical setting. Marena says "Art is so important to childhood development and to the well-being of a community, and our hope is to expose children in our community to as much art as we can so that they can learn and grow from it."
All of the KPAW teachers are college students pursuing performing art careers. KPAW will also be assisted by high school students from Waimea. Students only need to bring lunch, everything else will be provided by Kahilu Theatre.
Applications for KPAW are available at kahilutheatre.org/Education/Yo… and due by June 11. Applicants will be notified of acceptance by June 17, 2014. KPAW is supported in part by the State Foundation on Culture and the Arts through appropriations from the Legislature of the State of Hawaii and by the National Endowment of the Arts.