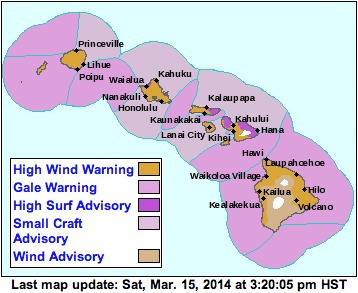 UPDATED (3/15/2014 at 3:36 PM)
The National Weather Service in Honolulu has issued a high wind warning in effect until 6 p.m. Sunday (March 16).
Winds are forecast to come from the Northeast at 30-45 mph with localized gusts over 60 mph. Peak winds are expected tonight into Sunday morning.
The strongest winds will be focused in the Leeward Kohala area, the Waimea to Kawaihae corridor, Western Saddle areas and North of Kailua-Kona in the North Kona district.
The strong winds can send trees, branches and other objects into roadways, power lines and/or equipment. Winds this strong can damage roofs and cause flying debris if outdoor items are not properly tied down. These winds can make driving difficult especially for high profile vehicles. Motorists should use caution while driving.
Hawaii Electric Light Company (HELCO) reminds people that if you see a downed power line you should stay as far away as possible and report any damage or outages to their dispatch center at (808) 969-6666.