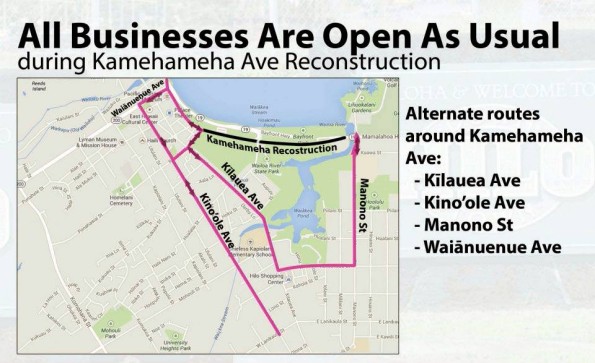 MEDIA RELEASE
The traffic pattern on Kamehameha Avenue from Ponahawai Street, to the Pauahi Street intersection will be one lane of travel in each direction on Monday, March 3. Vehicle traffic will shift to the mauka (mountainside) lanes. This traffic pattern is tentatively scheduled to remain through September 2014.
Travel through Pauahi Street will be maintained and left and right turns will be allowed at the Pauahi Street intersection.
Two public parking lots on the makai or ocean side of Kamehameha Avenue will remain open. Motorists may access both by using new, temporary entrances off of nearby Bayfront Highway. The Hele-On Bus park-and-ride lot located closer to downtown will be open to northbound and southbound traffic. However, only southbound motorists may enter the other lot, sometimes called the "Cow Palace" parking lot and located near the Pauahi Street intersection.
The contractor will set up the new traffic pattern and access to the parking lots on Sunday, March 2 from 8:00 PM to 6:00 AM.
Alternate routes to Downtown Hilo are Kīlauea Avenue, Kino'ole Street, Manono Street, and Waiānuenue Avenue. Businesses are open as usual in the area.
The Kamehameha Avenue Bayfront bus stop and Park & Ride, including the South Kohala Hele-On bus was temporarily relocated to the Afook-Chinen Civic Auditorium during the scheduled Kamehameha Avenue reconstruction.
During construction, please expect traffic delays. Provide extra time to travel through the work zone.
The Department of Public Works is reconstructing the four-lane roadway and sidewalks on Kamehameha Avenue while improving the drainage and upgrading the traffic signal at the Pauahi Street intersection. The project will also add curb ramps; left turn pockets; center left turn lanes; bike lanes; and installing LED streetlights.
The Federal Highway Administration is paying eighty (80) percent of the project cost and the County the remaining twenty (20) percent. The project is scheduled to take 18 months with estimated completion for July 2015.