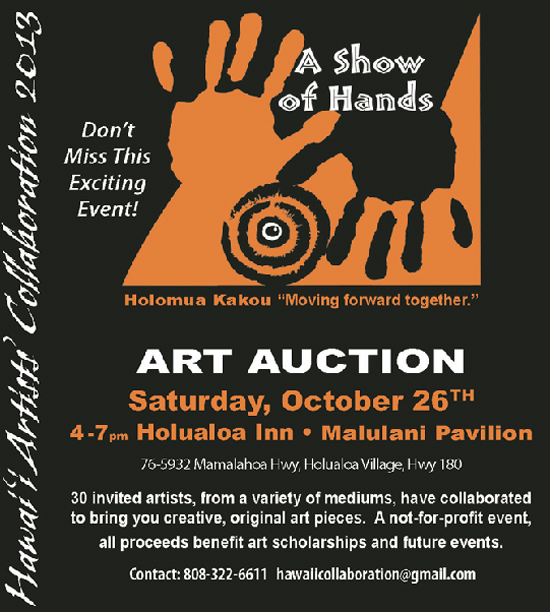 MEDIA RELEASE
The third annual Hawaii Artists' Collaboration Art Auction is set for 4-7 p.m. Saturday, Oct. 26 at Holualoa Inn's Malulani Pavilion.
This year the theme is "A Show of Hands -Holumua Kakau" (Moving Forward Together) and admission is free with on-site registration.
The auction is the culmination of 30 local and international artists, representing a variety of mediums, coming together to participate in a four-day, invitation-only event.
They work collaboratively to create original art pieces that will be auctioned to the highest bidders through an experience that is like no other.
The no-reserve auction begins promptly at 4 p.m. with a Hawaiian blessing led by collaborator, Kala Willis, and his halau.
The exhausted, but finally scrubbed up, artists are introduced and everyone gets a chance to meet the collaborators and appreciate their end results.
The auctioneer (actor, Dick Hershberger) gets things rolling at 5 p.m. and the bidding is quick.
"One of our goals is to encourage artists to venture outside their usual medium, working in alternative art forms to expand their vision and skills. Collaborators specialize in everything from wood turning and ceramics to painting and jewelry-making, and much more," says Tai Lake, Hawaii Artist Collaboration co-founder and Holualoa-based furniture maker.
Lake said the artists all learn from one another and this year welcome a slate of international collaborators— Lyonel Grant, Maori woodcarver from New Zealand; Graeme Priddle, New Zealand wood sculptor; blacksmith sculptors Henry Pomfret from England and Farrell Ruppert from Maine; and Laura Hosaluk, multi-media artist and coordinator for the original Emma International Artist Collaboration in Canada.
"It's is all about gathering artists together to share ideas, inspiration and skills. Together we create numerous pieces of art – with two or more artists working on each piece – using a mixed media approach," said Cliff Johns, Hawaii Artist Collaboration co-founder and Kailua-Kona based woodturner and sculptor.
Event administrator Tiffany DeEtte Shafto said, "The collaborative spirit is quite contagious and the harmony and gratitude expressed during the event are evident in the resulting works. We have such an incredibly talented creative community here."
"Hawaii Collaboration is made possible through the joint effort of the entire island community. It's an ideal way to blend the contributions that each of us can make to create something bigger than anyone could ever do on their own. It takes many hands, and a ton of volunteer hours but the possibilities and ideas that emerge connect lifetimes of experience," Lake said.
Following the auction this year, Lyonel Grant, Henry Pomfret, and Laura Hosaluk will be giving a public presentation at a potluck gathering 6-8 p.m. Nov. 1 at the Donkey Mill Art Center.
Lyonel will teach the Maori style of woodcarving and Henry will hold an introductory blacksmithing class, Nov. 2-3.
Contact the Donkey Mill Art Center at donkeymill@gmail.com or (808) 322-3362 for more information.
A not-for-profit event, all proceeds from the "no reserve" art auction benefit art scholarships and future events. For and more information, contact hawaiicollaboration@gmail.com or (808) 331-0813.
— Find out more:
www.hawaiiartistcollaboration….