MEDIA RELEASE
The Kona Coffee Cultural Festival, Hawaii's oldest food festival, begins Friday, Nov. 1, and continues through Sunday, Nov. 10.
This year, the festival celebrates Kona's famous brew with new events and programs open to the public. The festival's reach extends beyond the beans and unites the Kona community with a festival lineup that includes innovative arts and culture, island entertainment and lots of community spirit.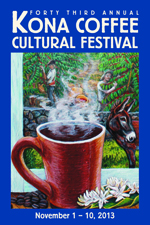 The festival opens with its new Kona Coffee Art Show & Competition, presented by Holualoa Foundation for Arts and Culture 10 a.m.-4 p.m. Friday, Nov. 1 at the Donkey Mill Art Center.
The art show features the works of local artists who capture the spirit of Kona's nearly 200-year coffee heritage and culture. The art show runs throughout the 10 days of Kona Coffee Cultural Festival.
On Friday, Nov. 8, the Kona Coffee Cultural Festival awaits the much-anticipated performance by Uwasa No Kyotaro, an upcoming recording artist from Japan.
Uwasa No Kyotaro will share the rich diversity of 'Kayo Kyoku" or classics from post war Japan. This outdoor concert will be showcased at 8 p.m. at Keauhou Shopping Center.
And finally, the Kamehameha Schools Kona Coffee Cultural Festival's Hoolaulea makes its debut at 10 a.m. Saturday, Nov. 9.
This celebration blends old-time festival favorites together with new family-friendly cultural activities all under one roof.
Festival villages will be constructed at the Keauhou Shopping Center including a Kona Coffee Corridor with free samples and Kona coffee for sale direct from the farmers; a Kids World offering games and activities with hours of fun and excitement for any age; the Ethnic Food Market, a very popular stop where festival goers can eat their way through authentic local food favorites including laulau and fish plate lunches, adobo, huli huil chicken, and all time favorite musubi and shave ice; plus a Christmas craft fair with unique items will help festival-goers get a jump on holiday shopping.
Nearly 40 events are planned through the 10-day of Kona Coffee Cultural Festival, including historic arts and culture venues, Kona coffee farms and prestigious competitions.
The award-winning Kona Coffee Cultural Festival is recognized as the oldest and one of the most successful food festivals in Hawaii. The event promote Hawaii's unique culture and diversity and supports the festival's mission to preserve, perpetuate and promote Kona's unique coffee heritage.
The Kona Coffee Cultural Festival is supported as a 'Major Festival' by Hawaii Tourism Authority and is made possible through the support of UCC Ueshima Coffee Co., Ltd., Kamehameha Schools, Alaska Airlines, Hawaii Community Federal Credit Union, Kawakami Family of Captain Cook Fund of the Hawaii Community Foundation and numerous other corporate and community donors.
— Find out more:
www.konacoffeefest.com