MEDIA RELEASE
Police have charged a 20-year-old Kailua-Kona man in connection with what started as a report of a man with a knife threatening people at a residence on Pumehana Street in Kailua-Kona.
On Sunday (Sept. 15) at approximately 5:13 p.m., Kona Patrol officers responding to the disturbance call, located and arrested the suspect identified as Garrick Scott Simmons.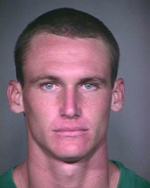 During the arrest Simmons threatened and assaulted two officers.
He was taken to the Kona cellblock while detectives from the Area II Criminal Investigation Section continued the investigation.
During the investigation detectives determined Simmons entered the home of an acquaintance, a 21-year-old Kailua-Kona man, and threatened him with a knife.
Simmons later illegally entered into the man's vehicle and removed items from within.
Simmons fled the area, but was located and arrested by patrol officers.
During the arrest one officer suffered a concussion and sprained knee while a second officer sustained a sprained knee and abrasions.
Both officers were later treated and released from the Kona Community Hospital.
On Tuesday (Sept. 17) detectives charged Simmons with two counts of first-degree assaulting a police officer, two counts of first-degree terroristic threatening, resisting arrest, first-degree burglary, kidnapping and unauthorized entry into a motor vehicle.
Simmons was released from custody after posting $20,500 bail.