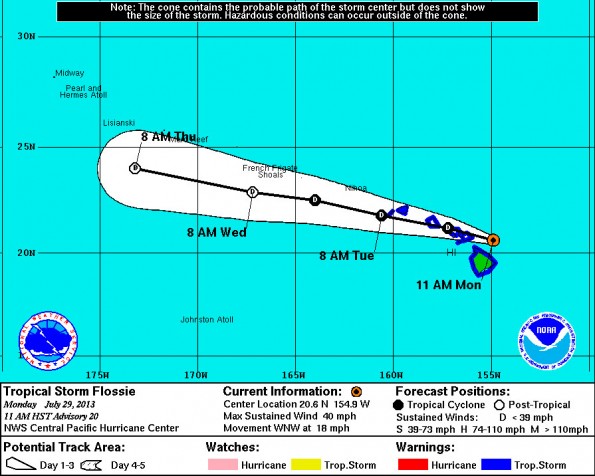 By Hawaii 24/7 Staff
UPDATED: 8:30 p.m. Monday, July 29
From the National Weather Service:
A flash flood watch remains in effect across the state, although Hawaii County Civil Defense has cancelled the tropical storm watch for the Big Island.
Flossie, which now is classified as a tropical depression, is about 145 northwest of Hilo and 90 miles east of Honolulu.
Maximum sustained winds are at 35 mph and the storm is moving west-northwest at 18 mph.
The storm is expected to move west of the state by Tuesday afternoon.
—
UPDATED: 7 p.m. Monday, July 29
Mayor Billy Kenoi:
Tropical Storm Flossie has been downgraded to a Tropical Depression and is presently located approximately 145 miles northwest of Hilo.
Although storm conditions have subsided and continue to improve presently, the Kailua-Kona area continues to experience strong winds and moderate rain conditions are being reported.
With the improvement in conditions the Mass Transit Bus Service will resume operations effective 7:30 p.m. Monday with the Hilo to South Kohala Resort route, and return to a normal full schedule beginning tomorrow morning.
In addition, all county parks and beach parks will be opened and scheduled solid waste transfer stations and the Hilo and Puuanahulu Landfills will be reopened starting Tuesday morning.
Although the impact of Tropical Storm Flossie may have been relatively moderate, the potential for serious and possibly life threatening storm conditions was present.
The Hawaii County Civil Defense would like to thank the community for your patience and cooperation and for doing your part to prepare for possible impact.
—
HELCO responding to outages
Hawaii Electric Light Company has announced that fallen trees caused by gusty winds from Tropical Storm Flossie are causing power outages throughout the lower Puna area.
Approximately 5,000 customers are without power.
The affected areas include 2,800 customers from Volcano to Glenwood; 2,200 customers from Kalapana to Nanawale; and 1,300 in Panaewa.
Service has been restored to the Panaewa Mountain View, and Kurtistown areas.
"The safety of our employees and customers is our top priority," HELCO president Jay Ignacio said. "We are prepared to restore service as quickly and safely as possible."
Power interruptions and voltage disturbances are possible as long as the stormy conditions persist. Do not touch fallen or low hanging power lines or anything they may be in contact with. A seemingly harmless wire may still be energized. Stay clear of puddles where downed lines may have landed.
Customers may call 969-6666 to report power outages and downed power lines.
Also, HELCO has announced offices will be open Tuesday, July 30.
—
Schatz briefed by FEMA, local officials
Sen. Brian Schatz and his staff are receiving regular updates from FEMA and local officials on the strength of Tropical Storm Flossie.
"Today, I was briefed by officials at FEMA on Tropical Storm Flossie. Over the last several days, our office has been in regular communication with Maui officials, Hawaii County officials and the State Adjutant General to discuss steps they are taking, and to ensure officials have the support needed to effectively respond," Schatz said. "While the storm has weakened over time, the public should continue to follow instructions from local officials and monitor the local news for updates. Our office stands ready to assist Hawaii's residents and visitors."
—
Young Brothers update
Young Brothers issued the following update on its operations at ports of call throughout Hawaii, as of 10 a.m. Hawaii Standard Time.
Hilo:
The waterways into the port of Hilo remain closed. However, YB's Hilo operations will remain open as allowed by the Coast Guard. Customers are able to pick up and drop off cargo today. YB's barge, Makaala, remains south of the Big Island awaiting the passing of the storm. Current ETA into Hilo is 4 p.m., pending clearance from the Coast Guard.
Kawaihae:
The Coast Guard has closed the waterways into the port of Kawaihae. However, YB's operations are currently open until 11:30 a.m. today, and customers are able to pick up and drop off cargo until then.
Kahului:
The waterways into the port of Kahului have been closed by the Coast Guard. YB's operations will remain open until 11:30 a.m. today, and customers are able to pick up and drop off cargo until then.
Nawiliwili:
YB's Nawiliwili operations will remain open until 11:30 a.m. today.
Kaunakakai:
YB's barge, Kamaluhia, departed for Honolulu at 9:45 a.m.
From Honolulu:
Monday sailings from Honolulu to Kawaihae, Kahului, and Nawiliwili are still slated to depart today as scheduled with arrivals into these ports being delayed.
All harbor operations and Young Brothers port operations are subject to change based on the weather conditions and directions given to us by the Coast Guard and the Department of Transportation.
Updated information will be posted on YB's website: www.youngbrothershawaii.com
—
Some video taken at 8 a.m. Monday from Palm Cliff House Inn in Honomu:
"No wind, but plenty of wave action now. We are 100 feet above these monster waves and can feel them thumping into the cliff. The far point, 23 Flats, is 20+ feet above the ocean and getting a good scrubbing, Ladders, the closest point is totally engulfed. I'm guessing these to be 12 to 15 foot waves." (Video courtesy of Palm Cliff House Inn)
—
Tropical Storm Flossie brings waves to Honolii Beach Park near Hilo
(Video courtesy of Big Island Video News)
—
UPDATED: 4 p.m. Monday, July 29
The State Civil Defense (SCD) is currently at full activation with an Emergency Response Team (ERT) staffing the State Emergency Operations Center (EOC) 24 hours a day until otherwise notified.
SCD is in active communication with the counties and continues to coordinate support with state and federal assets. The Federal Emergency Management Agency (FEMA) has an Incident Management Assistance Team (IMAT) on Oahu.
SCD advises residents and tourists to be aware of areas with high risk of flooding near their homes and to keep watch for Flash Flood Warnings.
If the surrounding land is higher than your location, there is a risk of flooding. Check culverts and gutters on your house. Look for flow paths from previous landslides; this will provide a reasonable estimate of where mudslides and landslides are likely to occur in the future.
Refer to your local and county Civil Defense authorities for more detailed information and updates in your area.
Learn more to prepare:
www.scd.hawaii.gov, www.hawaiicounty.gov/civil-defense/,www.co.maui.hi.us/index.aspx?nid=70, www1.honolulu.gov/dem/,www.kauai.gov/Government/Departments/CivilDefenseAgency/
EmergencyPreparedness/tabid/77/Default.aspx
By Hawaii 24/7 Staff (3 p.m., July 29, 2013)
The entire state remains under a Tropical Storm (TS) Warnings and Flash Flood Watch.
At noon July 29, TS Flossie was located 65 miles NNE of Hilo with max sustained winds of 40 mph moving WNW at 18 mph.
The National Weather Service (NWS) classifies a system with at least 39 mph max sustained winds as a Tropical Storm. TS Flossie is currently a low level TS and may be redefined as a Tropical Depression as early as 5 p.m. today.
Predicted rainfall has decreased to two to four inches for Hawaii Island with one to two inches elsewhere. But these rains still have the potential to cause flooding and fallen trees and power lines.
The National Weather Service still expects strong wind, heavy rainfall and potential flash flooding especially for Hawaii Island.
The Hawaii Electric Light Company has reported about 5,000 homes without electricity in the lower Puna area.
On Hawaii Island, Hilo and Puna have seen the most rain and surf, but Kona may see impacts this afternoon as the center of the low passes with winds coming out of the south.
The NWS predicts wind, rain and surf to impact Hawaii and Maui counties through Monday (July 29) afternoon.
>>>
By Hawaii 24/7 Staff (1 p.m., July 29, 2013)
The Department of Hawaiian Homelands (DHHL) and the Governor announced the release of employees for the rest of the day.
Effective 1 p.m. Monday, July 29, all non-essential DHHL workers will be released to prepare for impact of TS Flossie.
Employees are expected back to work on Tuesday, July 30, unless affected by flooding. Employees are required to report to their Division Administrator regarding status.
Gov. Neil Abercrombie delegated department directors the authority to determine whether to release employees from work due to the effects of Tropical Storm (TS) Flossie.
"Given the uncertainty about the effects of the storm and the diverse nature of departmental operations at each location, our directors are in the best position to make this decision," Gov. Abercrombie said. "Each department will  then determine the employees who can be released and, if so, when the release is appropriate."
The following categories of employees are unlikely to be released from work, barring unforeseen circumstances:
* Departmental Disaster/Emergency Coordinators
* Disaster Response Workers
* Employees whose work involves continuing operations/services, such as hospital workers, correctional workers, etc.
>>>
By Hawaii 24/7 Staff (11:16 a.m., July 29, 2013)
At 11 a.m. the center of Tropical Storm Flossie was located North of the Big Island moving toward the West-Northwest direction near 18 mph. Maximum sustained winds are near 40 mph with higher gusts, some weakening is forecast during the next 24 hours. Tropical storm force winds extend outward up to 70 miles from the center of the storm.
Tropical storm conditions are forecast to reach portions of the Big Island and Maui County early this afternoon with heavy rainfall expected to begin soon. Rainfall on the Big Island is expected to be two to four inches with some areas getting up to six inches of rainfall. The rainfall could cause flash floods and mud slides, especially in mountain areas.
Dangerously high surf is affecting East facing shores of the Big Island and Maui.
Closures by DLNR for Monday, July 29
* Pololu trail
* Waimanu trail and campground
* Hapuna Beach State Recreational Area
* Kiholo State Park Reserve
* Kekaha Kai State Park
* Kealakekua Bay State Historical Park
* Lapakahi State Historical Park
The DLNR advises hikers, campers and hunters to "avoid trails, streams and back-country areas" while the Tropical Storm Warning is in effect.
>>>
By Hawaii 24/7 Staff (8:30 a.m., July 29, 2013)
At 8 a.m. HST, Tropical Storm (TS) Flossie was located 90 miles northeast of Hilo with max sustained winds 40 mph moving west-northwest at 20 mph. The National Weather Service predicts the storm to affect all islands by the end of the day (Monday, July 29).
The heaviest rain will occur on Hawaii Island in the next few hours.
As TS Flossie has weakened, the low level center (with highest winds) has become exposed and its track has shifted to the north.
As a result of the disintegration of the storm, the north of Hawaii island (from Mauna Kea, northward) should expect winds 30 to 40 mph while the south half will be spared from the higher winds and experience 15 to 25 mph winds.
The most likely effects include localized flash flooding, dangerous surf conditions along east facing shores and strong winds. Rock and mudslides from the heavy rain are also possible, especially in steep terrain.
East facing shores of Hawaii island have already started to see high surf, which is predicted to reach 12 to 18 ft. Isolated tornadoes and waterspouts will be possible.
Hawaii County Civil Defense (CD) has announced the opening of nine emergency shelters from 4 a.m. Monday (July 29) morning. The CD urges those whose homes are vulnerable to high winds or flooding to take advantage of these shelters:
Pahala Community Center in Ka'u
Mountain View Elementary School
Pahoa Community Center
Aunty Sally's Luau Hale in Hilo
Laupahoehoe Charter School
Honoka'a Sports Complex
Waimea Community Center
Hisaoka Gym in North Kohala
West Hawaii Civic Center in Kona
Closures on Monday, July 29
All Big Island and Maui County Public Libraries
YWCA of Hawaii Island
Nā Leo ʻO Hawaiʻi Community Television (Hilo & Kona Facilities)
The sexual assault crisis hotline will be available as long as phones are operational.
Hilo and Kawaihae ports to vessels (drive in/out dock traffic is open)
HELCO offices
County facilities closed
All solid waste transfer stations
Hilo and Puuanahulu landfills
All county parks and beach parks
All state beach parks
Mass transit suspending all bus routes
State courthouses on the Big Island
Schools closed
Connections Charter School
Hawaii Community College
UH campuses (including off campus facilities)
Waimea Middle School (back to school program)
>>>
By Hawaii 24/7 Staff (7:01 a.m., July 29, 2013)
As of 5 a.m. the path of Tropical Storm Flossie has turned North slightly as it moves toward the West-Northwest direction at 16 mph. A Tropical Storm Warning is in effect for Hawaii County, Maui County, including the islands of Maui, Molokai, Lanai and Kahoolawe, Oahu, Kauai and Niihau.
Tropical storm conditions are expected to reach the Big Island later this morning with frequent showers in the morning with a slight chance of thunderstorms. Numerous rain showers are forecast for the afternoon. Total rainfall of 6-10 inches over the Big Island are expected today with some isolated Windward areas possibly receiving 15 inches of rainfall. A flash flood watch is in effect until 6 a.m. Wednesday.
(Video courtesy of Sur Prize)