MEDIA RELEASE
The state Department of Education (HIDOE) has received federal approval for a new Strive HI Performance System designed to ensure all students graduate college- and career-ready.
The redesigned school accountability and improvement system approved by the U.S. Department of Education (USDOE) replaces many of the requirements of the No Child Left Behind Act (NCLB) with multiple measures of success to meet the needs of Hawaii's students, educators and schools.
"Approval to move forward with the Strive HI Performance System validates our strategic direction and allows us to build on Hawaii's successes," Superintendent Kathryn Matayoshi said. "With the new system, we are more focused on college- and career-readiness, rewarding high-performing schools and customizing support to students, educators and schools with strategies proven in the Zones of School Innovation."
After winning a Race to the Top grant in 2010, HIDOE established two Zones of School Innovation (ZSI) that targeted support for struggling schools in rural or remote, hard-to-staff areas serving the largest population of native Hawaiian and economically-disadvantaged students in the state.
The Strive HI Performance System is a culmination of work by Hawaii educators, parents, community groups, and higher education.
It replaces NCLB's most ineffective and outdated components with meaningful benchmarks aligned with goals of the HIDOE/Board of Education State Strategic Plan: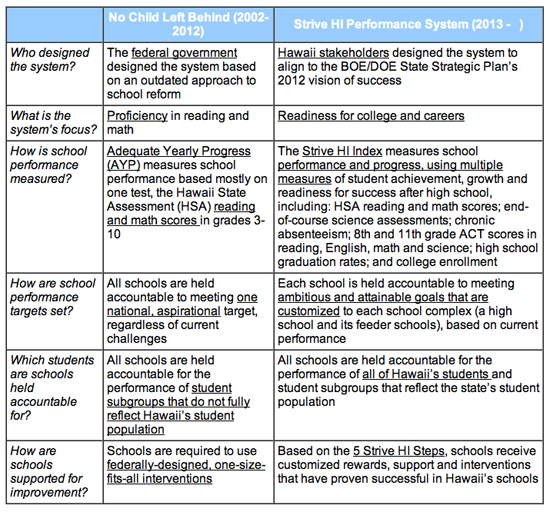 The Strive HI Performance System not only reflects the State Strategic Plan, it aligns and connects with state education policies and initiatives including Common Core State Standards, updated assessments, more rigorous diploma and graduation requirements, successful school improvement strategies in the ZSI and robust teacher and principal evaluation and support systems.
"We are proud of the work happening at every level of Hawaii's public education system to prepare students for real-world demands and provide better data, tools and support to students, educators and schools," Deputy Superintendent Ronn Nozoe said. "Now, with the approval of the Strive HI Performance System, we've unlocked the potential of all these efforts to work together in a coherent way to support success."
HIDOE will work closely with Complex Area Superintendents and principals this summer to ensure school leaders and educators are positioned for successful implementation of the Strive HI Performance System in the coming school year.

— Find out more:
www.hawaiidoe.org/strivehisyst…
———
Gabbard applauds No Child Left Behind waiver

Congresswoman Tulsi Gabbard offered praise for the U.S. Department of Education announcement that Hawaii has received a waiver from No Child Left Behind (NCLB).
The state received the waiver in exchange for submitting plans to better prepare students for college and careers, to focus aid on the neediest students and support effective teaching and leadership.
"This No Child Left Behind waiver will allow our local schools to make critical improvements that make sense for their unique needs," said Gabbard, who recently visited five "Race to the Top" grant schools on Oahu and Hawaii Island to learn about their progress toward reform.
"During my recent work week in Hawaii, I saw firsthand the hard work our Race to the Top schools are engaged in and the improvements that have been made," she said. "I look forward to seeing the initiatives they have tested and found successful to be implemented across the state. For six years, national education reform has been in a holding pattern. Our students, teachers, and administrators have waited for too long and deserve to have the flexibility to pursue Hawai'i-developed reforms now."
Federal education law has not been reauthorized by Congress since 2007. President Barack Obama announced in September 2011 that his Administration would grant waivers from NCLB to qualified states.
Since then, 45 states, D.C., Puerto Rico and the Bureau of Indian Education have requested waivers from NCLB. The Department has now approved requests from 37 states and D.C.