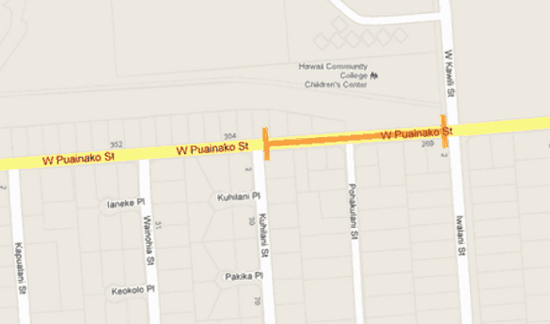 MEDIA RELEASE
AREA AFFECTED: W. PUAINAKO ST., BETWEEN IWALANI ST. AND KUHILANI ST.
START DATE/TIME: 10 P.M. THURSDAY, MAY 16
END DATE/TIME: 4 A.M. FRIDAY, MAY 17
PURPOSE: HAWAII ELECTRIC LIGHT COMPANY LINE CREWS WILL BE INSTALLING POLES AND DOING MAINTENANCE WORK ON THE DISTRIBUTION LINES ALONG W. PUAINAKO ST.
THIS WORK DOES NOT REQUIRE THAT THE POWER BE DE- ENERGIZED.
DURING CONSTRUCTION, W. PUAINAKO WILL BE CLOSED BETWEEN IWALANI AND KUHILANI STREETS. HILO BOUND LANE OF W. PUAINAKO ST. WILL BE OPEN TO LOCAL TRAFFIC ONLY TO POHAKULANI ST. WE URGE MOTORISTS TO USE ADDED CAUTION WHEN APPROCHING AND DRIVING THROUGH THE CONSTRUCTION ZONE.
FOR FURTHER INFORMATION, CALL 969-6666.