* Cacy & Kiara and the Curse of the Kii
written and illustrated by Roy Chang
Finally, an action-adventure chapter book for Hawaii's kids ages 9 and up. Complete with more than 60 manga-style illustrations, featuring two female main characters, the story takes readers on an imaginative, adventurous ride on the Island of Hawaii.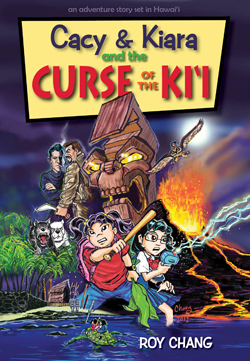 Cacy and Kiara are sixth grade cousins who couldn't be more different from each other. When their two schools take the same field trip to Hawaii Volcanoes National Park, Cacy and Kiara are thrown into an adventure filled with mystery and murder.
In order to save the park — and themselves — from certain destruction, they call upon their family aumakua (personal gods), receive guidance from the Goddesses Hiiaka and Pele, and befriend the inhabitants of a secret Menehune village.
Throughout their adventure, they learn the power of their connection to ancient Hawaii and the importance of working together.
The book includes a glossary, a map of the Island of Hawaii and Hawaii Volcanoes National Park, and an author's note to parents and teachers encouraging them to learn more about Hawaiian myths and legends, Pele, and Hawaiian volcanoes.
Chang is an art teacher, editorial cartoonist and freelance illustrator. He graduated with a BFA in Illustration from the Academy of Art University in San Francisco and earned his Masters in Education degree from the the University of Hawaii at Manoa.
He is also a two time Pai award winning Editorial Cartoonist for MidWeek, Hawaii's largest read non-daily newspaper.
This story is his first novel and was inspired by a unit lesson created in 2002 for his 7th and 8th grade Fine Arts students to come up with their own two original characters, depict them in a four panel storyline and then create a hand painted "animation" cel based on their favorite scene.
In doing the project himself, Cacy and Kiara were born.
The following year, Chang visited Hawaii Island to research details for his plot and settings. As a part-Hawaiian, he is very honored and proud to have learned more about ancient Hawaiian culture in the process of writing and drawing.
— Find out more:
www.beachhousepublishing.com/C…