By the U.S. Geological Survey's Hawaiian Volcano Observatory.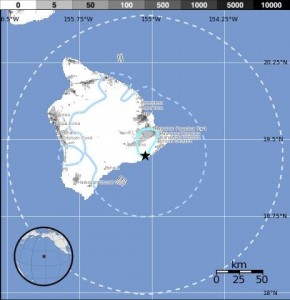 The U.S. Geological Survey's Hawaiian Volcano Observatory (HVO) recorded a magnitude 4.4 earthquake located beneath Kīlauea volcano's south flank on Saturday, January 5, 2012, at 4:37 a.m. HST. This earthquake was located in the Pūlama Pali area about 12 km (7 mi) west of Kalapana and 7 km (4 mi) southeast of the Pu`u `Ō`ō crater, at a depth of 9 km (6 mi).
The earthquake was widely felt on the Island of Hawai`i. The USGS "Did you feel it?" Web site (earthquake.usgs.gov/eqcenter/d…) received 160 felt reports within the first hour of the earthquake.
There were no aftershocks following the magnitude-4.4 earthquake this morning.
The Pūlama Pali of Kīlauea's south flank has been the site of 23 earthquakes of magnitude-4.0 or greater during the past 50 years, with 8 since 1983. Most are caused by abrupt motion of the volcano's south flank moving southeast over the ocean crust at an average rate of 6.5 centimeters per year (2.6 inches per year) as a result of magma injected into the rift zone.
The earthquake did not have any apparent effect on Kīlauea's ongoing eruption. HVO monitoring networks have not detected any significant changes in activity at the summits or rift zones of any other Hawaiian volcanoes.
For eruption updates and information on recent earthquakes in Hawai`i, visit the Hawaiian Volcano Observatory website at hvo.wr.usgs.gov.