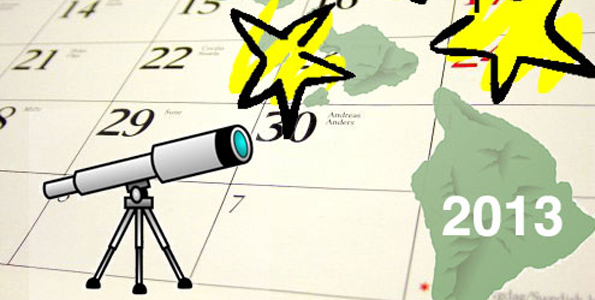 Gerrit van der Plas | Special to Hawaii 24/7
These early days of the new year are a good time to look back at the past year and to look forward to what is to come in the next year.
What will happen to the Kilauea eruption (Jan. 3 marks the 30th anniversary of the current eruption)? What is the Hawaii Warriors football team doing this year? Will Hawaii 24/7 in 2013 again perform so well at the Excellence in Journalism awards? And will that fruit tree you planted in the yard finally start producing some fruit?
We suggest you add one more thing to these new year musings: What dates should I mark on my calendar for 2013 to do some spectacular stargazing?
Here is a spoiler. There are nine meteor showers, a couple of planetary conjunctions and a partial solar eclipse – all visible from Hawaii!
You only need to mark the following dates in your calendar. This list is provided by www.lovebigisland.com, and you can find more information on each event in its astronomy calendar for Hawaii.
* Jan. 3: Quadrantids Meteor Shower
* April 25: Lyrids Meteor Shower
* May 6: Eta Aquariids Meteor Shower
* May 9: Partial Solar Eclipse
* May 28: Conjunction of Venus and Jupiter
* June 20: Summer solstice
* July 30: Delta Aquariids Meteor Shower
* Aug. 12: Perseids Meteor Shower
* Oct. 21: Orionids Meteor Shower
* Nov. 17: Leonids Meteor Shower
* Dec. 13: Geminids Meteor Shower
* Dec. 21: Winter solstice
* Dec. 22: Ursids Meteor Shower
So get a pen and mark those dates. We wish you an astronomically good 2013, and hope all your wishes will come true.
— Find out more:
www.lovebigisland.com/hawaii-b…
—
Hawaii viewing tips for Quadrantids meteor shower (Jan. 3)

You can see Quadrantids shooting stars between Dec. 28 2012 and Jan. 12, 2013. This meteor shower reaches its peak activity at 3:24 a.m. Jan. 3. The moon rises around midnight (lunar calendar for Hawaii), but luckily is not very bright. This makes 2013 an alright/good year to watch the Quadrantids from Hawaii.
The best time to see the Quadrantids from Hawaii in 2013 is between midnight and the early morning of Jan. 3.
The Quadrantids meteor shower is named after an abandoned constellation named Quadrans Muralis. This constellation was invented in 1795 by the astronomer Joseph Jerome de Lalande to honor the wall-mounted instrument, which he used for measuring star positions (a "Quadrant" is an improved astrolabe, and is used to measure angles up to 90°, "muralis" is Latin for wall).
The constellation never really caught on and was abandoned, However, it now is the most well known out-of-date constellation because it gives its name to the Quadrantids meteor shower.
The Quadrantids are special because this meteor shower has a very 'sharp' peak intensity. The shower is most active for only a short time (the meteor rates exceed one-half of their highest value for only about 8 hours). This means that the space debris that causes this shower has been left 'on location' pretty recently, within the last ±500 years.
The Quadrantids produce around 100 shooting stars / hour during their peak.
The radiant (or place where the shooting stars seem to come from) lies between the Big Dipper and Bootes constellations. The radiant of the Quadrantids will rise over the North East horizon just after midnight, and rise higher as the night progresses.
The best places to watch a meteor shower are the ones that have dark skies and little light pollution. Luckily Hawaii is full of such places.
If you are on the Big Island and look up around 3 a.m. in the beginning of January, the sky will look something like this:
(Gerrit van der Plas is a frequent visitor to the Big Island and writes for www.lovebigisland.com, which promotes sustainable tourism and has a special focus on astronomical events on Hawaii.)