MEDIA RELEASE
Hawaii-based Hawaiian Springs, LLC, a premium natural bottled water brand, has strengthened its distribution system in the Southern California region by adding two well-known distributors.
Alliance Beverage Partners (ABP) and Statewide Beverage Company (SBC) will carry the 500 ml, 1 liter and 1.5 liter size beautiful teal bottles of Hawaiian Springs Water.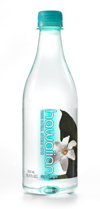 ABP serves the San Fernando Valley, Ventura and Santa Barbara Counties and supplies approximately 1,300 accounts including high quality brands such as Ralph's, Vons, BevMo and service station retailers.
SBC will cover Orange County and Long Beach with access to its 1,200 retailers including Walgreens, Smart & Final, Albertsons and 7-Eleven.
Hawaiian Springs is distributed in more than 3,750 stores outside of its home in Hawaii, as well as in grocery stores in Canada and Asia. In 2011, the brand grew retail placement by 85 percent.
"With these two strong partners, we anticipate healthy growth in 2013," says Clint Welker, Hawaiian Springs National Sales Manager. "We're happy to spread the special allure of Hawaii with the Southern Cal region, which is about 60 percent of California's population."
"We are pleased to be able to bring Hawaiian Springs Water to our retail partners who have come to expect Alliance Beverage Partners to introduce fresh and new products that drive in-store consumer excitement," said Daniel Sosa, Managing Partner at ABP.
"Our retailers will be pleased that we can offer such a premium product with the strong allure of Hawaii," said Troy Magnusson, SBC General Manager.
Hawaiian Springs' water is drawn from an artesian well at the base of Mauna Loa. It has been recognized as one of the world's finest waters by "water sommelier" Dr. Michael Mascha, author of Fine Waters, A Connoisseur's Guide to the World's Most Distinctive Bottled Water
About Hawaiian Springs
Hawaiian Springs began bottling its young, natural, artesian water in February 1995. Drawn from a highly sustainable artesian aquifer at the base of Mauna Loa, Hawaiian Springs bottles its water directly from the source within 30 days of falling as Arctic rain.
Hawaiian Springs is one of the finest natural waters available today, with a distinctive, slightly sweet taste and delivering a moment of what makes Hawaii special.
Hawaiian Springs Water was selected as Best of Hawaii 2012 by Hawaii Magazine.
Hawaiian Springs is available throughout the Hawaiian Islands, as well as the U.S. mainland, Canada and Asia, at leading supermarkets and natural food retailers such as AJ's Fine Foods, Bel Air, Bristol Farms, Gelson's Markets, H-E-B stores, Lucky's, Mollie Stone's, Mother's Market, Nob Hill Foods, Raley's, SaveMart, Sprouts Farmers Market, The Fresh Market, Vitamin Cottage Natural Grocers and Whole Foods.
About Alliance Beverage Partners
Alliance Beverage Partners is a full service direct store delivery (DSD) distributor, based in Chatsworth, which was founded in 2010 by Daniel Sosa and Jason Fontaine to service the San Fernando Valley, Santa Clarita Valley, Ventura, and Santa Barbara Counties.
Alliance Beverage is dedicated to excellence through distribution and representation of quality and exciting brands that add value to our retail partners consumer offerings.
About Statewide Beverage Company
Statewide Beverage Company is a full-service beverage distributor covering multiple counties throughout Southern California.
— Find out more:
www.HawaiianSpringsWater.com