MEDIA RELEASE
Big Island author and writing teacher Tom Peek captures the deeper beauty and hidden turmoil of today's Hawaii in his debut novel Daughters of Fire, a riveting tale of romance, intrigue, myth and murder set amid the cultural tensions of America's 50th state.
Novelist and TV personality Arthur Rosenfeld describes Daughters of Fire as "a page-turning thriller on the surface, a deep meditation on culture one level down, a spiritual tour-de force at the core."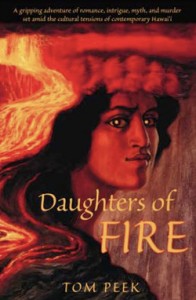 Peek will sign copies of his book from 11 a.m. – 2 p.m. Saturday, Nov. 24 at the Volcano Art Center Gallery's "Christmas in the Country" celebration in Hawaii Volcanoes National Park.
Due to popular demand, he will also return for a second reading and signing at Basically Books in downtown Hilo at 3 p.m. Saturday, Dec. 8.
Peek is best known locally for his popular "Empowered by the Pen" workshops, which he's taught since 1991 through UH Hilo, Volcano Art Center, and other venues on the Big Island, Maui, and Lanai. He's also written newspaper commentaries for the Honolulu dailies and Big Island and mainland newspapers.
More than a decade in its research and writing, Tom Peek's mystical and provocative tale picks up Hawaii's story where James Michener left off.
Daughters of Fire illuminates how the islands' transformation into a tourist mecca and developers' gold mine sparked a Native Hawaiian movement to reclaim their culture, protect sacred land, and step into the future with wisdom and aloha.
A visiting astronomer falls in love with a Hawaiian anthropologist who guides him into a Polynesian world of volcanoes, gods, and revered ancestors. The lovers get caught up in murder and intrigue as developers and politicians try to conceal that a long-dormant volcano is rumbling back to life above the hotel-laden Kona coast.
The anthropologist joins forces with an aging seer and a young activist, and these three Hawaiian women summon their deepest traditions to confront Hawaii's latest, most extravagant resort as the eruption and the murder expose deep rifts in paradise.
Peek lived his early life in Minnesota on a backwaters island in the Upper Mississippi. After vagabonding by boat through the South Seas, he settled on the island of Hawaii, where he's lived for more than two decades. He's been a mountain and astronomy guide on Mauna Kea and an eruption ranger, wildland firefighter, and exhibit writer on Kilauea, working closely with Hawaiian elders and cultural practitioners on both volcanoes. These adventures provided Peek with the material for his Big Island novel.
Daughters of Fire is the second work of fiction from Maui-based publisher Koa Books, which released Wayne Moniz's Under Maui Skies and Other Stories in 2009.
Koa's other Hawaii titles include Georgia O'Keeffe's Hawaii, Nation Within: The History of the American Occupation of Hawaii, and The Superferry Chronicles: Hawaii's Uprising Against Militarism, Commercialism, and the Desecration of the Earth.
"Fiction is a potent way to illuminate a place and a people," said Arnie Kotler, Koa Books' publisher and editor. "Tom's novel does this with uncanny authenticity."
Kotler established Koa Books on Maui in 2005, bringing with him two decades of publishing experience as editor and publisher of Parallax Press in Berkeley, Calif.
Daughters of Fire is available in bookstores across Hawaii and the U.S., in Costco stores statewide, and on Amazon and other online retailers.
For further information, visit www.DaughtersofFire.com