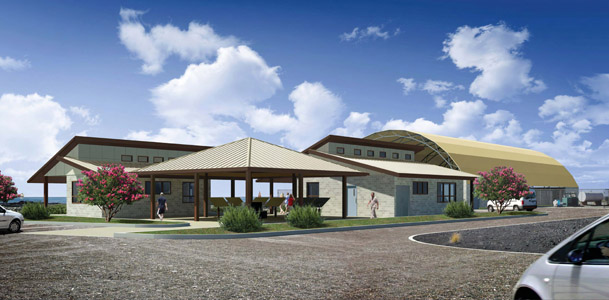 Karin Stanton | Hawaii 24/7 Editor
"You call it a hospital. We call it a puu honua," said Wally Lau, county deputy manager. "It's a place of refuge and healing for sick, injured and starving Hawaiian monk seals."
Lau, representing Mayor Billy Kenoi, spoke Sept. 15 at the sunset blessing and ground-breaking ceremony for the Hawaiian Monk Seal Hospital.
The ground-breaking means the first phase of the $3.2 million critical care facility – able to treat up to 10 seals at a time – is on schedule to open within a year, said Jeff Boehm, executive director for The Marine Mammal Center.
Located on 2.6 acres along the shoreline at Natural Energy Laboratory of Hawaii Authority, the nonprofit rescue and care facility is the latest effort to bolster conservation of the U.S. Endangered Species Act-identified critters.
The Hawaiian monk seal numbers are dropping by about 4 percent each year, Boehm said, with about 1,100 remaining. The vast majority of the animals live in the remote islands and atolls of the Northwestern Hawaiian Islands, although some 200 are known to frequent the main islands.
"Our NOAA science program staff will bring rescued Hawaiian monk seals from throughout the Hawaiian archipelago to the new hospital on Kona." said Dr. Charles Littnan, lead Hawaiian monk seal research program scientist, NOAA Pacific Islands Fisheries Science Center. "About 90 percent of the Hawaiian monk seal population lives where almost no one sees or interacts with them. For a number of reasons, including a lack of food and entanglement, seals have been on the decline for 30 years. After treatment at the hospital they will be returned to the area where they were rescued from."
Factors contributing to the population decline include disease, food limitation, entanglement and predation. Also, up to 80 percent of pups do not survive to reproductive maturity.
According to NOAA scientists, a record low of 105 Hawaiian monk seal pups were born in the Northwestern Hawaiian Islands this year. While the juveniles in the area seemed to fair well this year, the decrease in the number of new pups is cause for concern for the future of the most endangered pinniped in the U.S.
"Fewer than one in five Hawaiian monk seal pups survive to make it to a second spring and that's as a result of them getting entangled in ocean trash, changes in the food chain they depend on, and predation;" said Dr. Frances Gulland, senior scientist at The Marine Mammal Center and member of the Hawaiian monk seal recovery team since 2001. "It is critically important that we save every Hawaiian monk seal pup now so that each female becomes available to reproduce as an adult in the future."
Because Hawaii has no dedicated facility to help sick, injured or malnourished seals, Boehm said seals that need assistance currently have a better chance at survival if left in the wild.
"In a year's time, we will have a dedicated facility: a place to which we can take these animals to care for them," he said. "We're doing everything we can to restore this population of animals to a healthy number."
The facility, which will not be open to the public, will be offer an array of services, including nutritional care for sick, injured or orphaned seals and medical procedures to treat wounds and remove foreign objects. After care, animals will be returned to the wild.
"Every year we prolong the building of this hospital is another year in which we lose monk seals that could have been saved, and that just doesn't sit well for all of us who are dedicated to helping marine mammals;" Boehm said. "Now that we have the funding in place to begin building the hospital, we will lead this collaborative conservation effort, and working with our partners, leverage our veterinary and scientific expertise with that of a passionate and supportive community, in order to help these animals in peril."
To date, The Marine Mammal Center has raised $1.9 million, enough to begin the first phase of construction to include building pens and pools.
The $3.2 million project includes two neonate rehabilitation pens and pools, quarantine pen areas, two larger pens and pools for juvenile seals, as well as medical lab, staff office and a patient food preparation kitchen. Future plans call for an education pavilion.
Hospital highlights:
* Two pens with pools for juvenile and adult seals and two pens with pools for neonates
* Quarantine areas
* Fish kitchen, medical lab and staff quarters buildings
* Photovoltaic panels
* Sustainable building materials
* Seawater air conditioning for the buildings
* Extensive seawater filtration infrastructure for pools
The Marine Mammal Center plans to use community volunteers for rescues of injured and sick seals in and around the Hawaiian Islands and for animal husbandry at the new hospital.
Since 1975, The Marine Mammal Center has treated more than 17,500 marine mammals along the central and northern California coast at its facility in Marin County, Calif.
The Center is working in collaboration with a number of groups including: NOAA Fisheries; the Hawaiian Monk Seal Recovery; Team, Hawaii Wildlife Fund; the Kohala Center; NELHA; and several education organizations; in this initiative to conserve Hawaiian monk seals.
— Find out more:
www.MarineMammalCenter.org