MEDIA RELEASE
Back from a West Coast book tour, Waikoloa author and surf photographer Kirk Lee Aeder will sign books 3-5 p.m. Saturday, June 30 at the Eddie Aikau Restaurant, during Eddie's "Surf Hours."
This will be Aeder's first book signing on the Big Island to promote his new book "Child of the Storm."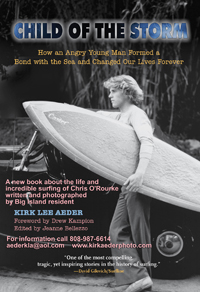 "Child of the Storm, How an Angry Young Man Formed a Bond with the Sea and Changed Our Lives Forever," chronicles the tempestuous life of 1970's California competitive surfer Chris O'Rourke, who died of cancer at the age of 22.
His lifelong friend, Aeder was able to capture O'Rourke's meteoric surf career on camera as he rose to world class status; and as he fought illness with ferocity.
As book reviewer Matt Pruett writes in Surfline.com: "After much guilt and reckoning, O'Rourke died young, but not before stoking Aeder's photographic confidence, Caster's design principles, Joey Buran's faith in Christianity, Gerlach's competitive instincts, Quiksilver's corporate dynamic… By the time he passed, O'Rourke's presence and spirit had influenced every facet of the budding surf industry and culture we all operate within today."
Copies will be available for purchase.
— Find out more:
www.kirkaederphoto.com
www.facebook.com/EddieAikauRes…