MEDIA RELEASE
The state Department of Labor & Industrial Relations has announced the seasonally adjusted unemployment rate for May was 6.3 percent, unchanged from April.
Statewide, there were 612,550 employed and 41,400 unemployed in May, for a total seasonally adjusted labor force of 654,000. Nationally, the seasonally adjusted unemployment rate was 8.2 percent up from 8.1 percent in April.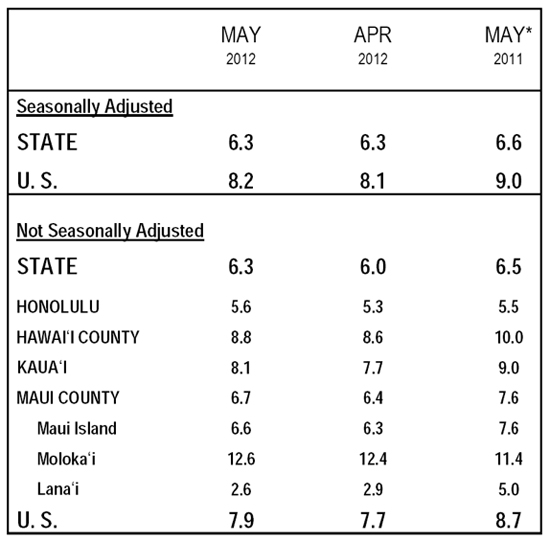 Initial claims for unemployment benefits were down 16% and total weeks claimed were down 10% compared to one year ago. Initial claims fell by 3.6% and total claims dropped by 1.9% in May compared to April.
The unemployment rate figures for the State of Hawaii and the U.S. in this release are seasonally adjusted, in accordance with the U.S. Bureau of Labor Statistics (BLS) methodology.The not seasonally adjusted rate for the State increased to 6.3 percent in May from 6.0 percent in April.
Industry Payroll Employment (Establishment Survey)

In a separate measure of employment, total seasonally adjusted nonagricultural jobs decreased by 3,200 jobs over-the-month.
Government contracted by 4,000, with the majority of the decline attributed to recent shifts in the year-round Department of Education school schedules, which have created inconsistency in predicting both the timing and number of seasonal hires.
In the private sector as a whole, jobs rose in May over April, with job gains experienced in Leisure & Hospitality (+500), Trade, Transportation, & Utilities (+500), Educational & Health Services (+300), Financial Activities (+300) and Other Services (+100).
In May, visitor-related sectors benefited from the American Association of Orthodontists' annual meeting, along with Japan's Golden Week travel period.
Job losses over-the month occurred in Manufacturing (-100), Construction (-300), and Professional & Business Services (-800). In comparison with one year ago, employment has expanded by 7,300 jobs, with the largest job increases in Leisure & Hospitality (+5,700), Trade, Transportation, & Utilities (+2,200), and Financial Activities (+1,300).