Hawaii 24/7 Staff
No. 1 seed Sarah Dvorak, of Waiakea, tore through the opening rounds, but couldn't quite overcome No. 2 seed Alyssa Tobita of Mililani in the finals of the girls state tennis tournament.
In a tight match Tobita just came out ahead, 6-4, 7-5.
Meanwhile, in the boys doubles, Kealakehe's Chandler Daub and Jeffrey Gelman earned third place.
In team standings, it was fourth place for the Kealakehe boys and fourth place for the Waiakea girls.
Other Big Island teams scoring points at the state tournament were HPA, Hilo, Konawaena and Makua Lani Christian.
2012 Carlsmith Ball Tennis Championships
Thursday, May 3 – Saturday, May 5
Central Oahu Regional Park
First Round Results – Boys Singles

[1] Brandon Lee (Punahou) def. Tyler Mikami (Pearl City) 6-1, 6-4
Ryan Adachi (Punahou) def. Ty Spangler (Mililani) 6-3, 6-0
[7] Isaiah Brilhante (Waiakea) def. Johnathan Leake (Castle) 6-0, 6-4
Ivan Santos (Moanalua) def. Jordan Baclay (Lahainaluna) 6-0, 6-0
[3] Alec Wagner (Lahainaluna) def. Shoyo Tsukamoto (Kealakehe) 6-1, 6-0
Daniel Tada (Hilo) def. Micah Sato (Mililani) 6-2, 7-5
[5] Spencer Travalino (Kealakehe) def. Ryan Perez (Island School) 6-0, 6-0
Brandon Bersola (Leilehua) def. Andrew Trump (Kohala) 6-1, 6-1
Bailey Tacub (Kaiser) def. Steven Narasaki (Baldwin) 6-0, 6-1
[8] Daisuke Nakayama (Iolani) def. Gunnar Austin Lee (St. Joseph) 6-1, 6-1
Rahnard Gaddis (Mililani) def. Bud Kaiwi (Baldwin) 6-1, 6-0
[4] Paul Okuda (Punahou) def. Jonah Tahilan (Waipahu) 6-0, 6-2
Christopher Young (McKinley) def. Zane Moran (Hawaii Prep) 6-1, 1-6, (4)
[6] Jeffrey Liang (Hawaii Baptist) def. Jhun Gumboc (Maui) 6-2, 6-3
Mitchell Miyashiro (Kaiser) def. Christopher Ajimura (Waimea) 6-1, 6-1
[2] Marcel Chan (Kamehameha Schools Kapalama) def. JJ Minakata (Hawaii Prep) 6-1, 6-2
First Round Results – Girls Singles

[1] Sarah Dvorak (Waiakea) def. Kelsey Ann Yamanaka (Punahou) 6-0, 6-1
Mari Onoye (Roosevelt) def. Michaela Thompson (King Kekaulike) 6-4, 7-5
[8] Daisy Green (Kealakehe) def. Zoe Palmer (Iolani) 6-0, 6-1
Alexis Agustin (Campbell) def. Brittney Barreira (Waimea) 6-4, 6-1
[4] Bobbi Oshiro (Iolani) def. Amanda Lerma (Kamehameha Schools Hawaii) 6-0, 6-0
Alina Katase (Hawaii Prep) def. Jaye Orikasa (Kamehameha Schools Maui) 6-4, 1-6, (9)
[5] Lani-Rae Green (Waimea) def. Alicia Ballesteros (St. Anthony) 6-1, 6-0
Lauren Mabuni (Makua Lani Christian) def. Rachel Christensen (Kahuku) (def)
Suzanna Bradley (Punahou) def. Erin Hashimoto (Roosevelt) 6-4, 6-1
[7] Cori Cummings (Le Jardin) def. Charlene Caraang (Pearl City) 6-1, 6-0
Tasha Shaik (Kaiser) def. Melissa Taketa (Lahainaluna) 7-5, 4-6, (8)
[3] Skyla Alcon (Mid Pacific) def. Renee Lum (Pearl City) 6-3, 6-0
Aleina Tanabe (Kalaheo) def. Mai Kobayashi (Kealakehe) 7-5, 6-3
[6] Scout Shutter (Punahou) def. Lauren Seki (Kalani) 6-2, 6-3
Marissa Williams (Seabury) def. Sylvia Brummitt (Radford) 5-7, 6-2, (4)
[2] Alyssa Tobita (Mililani) def. Emile Skladzien (Parker) 6-1, 6-0
First Round Results – Boys Doubles

[1] Kawika Lam/Zander Kim (Punahou) def. Shaun Kagawa/Keoni Wong (Kamehameha Schools Hawaii) 6-0, 6-0
Justin Uchimura/Coran Yamamoto (Konawaena) def. Anthony Calvero/Brendan Meyers (Campbell) 6-4, 6-3
[6] Scott Fukuoka/Ryan Hamamura (Baldwin) def. Tyler Nghiem/Scott Yabui (Kaiser) 6-0, 6-3
Zac Villarmia/Andrew Obatake (Pearl City) def. Dillon Koga/Ray Tengan (King Kekaulike) 6-2, 6-0
[3] Chandler Daub/Jeffrey Gelman (Kealakehe) def. Hanlin Cui/Ricky Cheng (McKinley) 6-0, 6-1
Jerik Centeno/Matthew Kanna (Kauai) def. Finn Gallagher/Caelen McHale (Konawaena) 7-5, 6-3
[8] Samuel Matsuura/Christopher Simons (Waiakea) def. Casey Ryan/Spencer Ma (Pearl City) 6-2, 6-2
Ethan Fukuda/Kitt Kaneko (Mid Pacific) def. Alek Cabacungan/Greg Watanabe (Mililani) 6-1, 6-2
Daniel Han/Buck Thomas (Hawaii Prep) def. John Caputo/Byron Doan (Maui Prep) 6-3, 4-6, (7)
[7] Daniel Yamada/Joza Katsube (Kaiser) def. Royce Sato/Cy Yoshizu (Baldwin) 6-1, 6-1
Matt Mcnish/Sage Katayama (Island Pacific Academy) def. Mark Reyes/Kenan Guinto (Mililani) 6-0, 6-1
[4] Connor Yim/Matt Perez (Punahou) def. Elisha Lin/Kohya Sutton (Mililani) 6-2, 6-0
Ty Tanaka/Calvin Lee (Kalani) def. Radcliff Floria/Kevin Jian (Kauai) 6-1, 6-0
[5] Shermann Alconcel/Troy Sekimura (Punahou) def. Brendan Moynahan/Bryce Zeffert (Hawaii Prep) 6-4, 6-0
Isaac Chey/Santa Chirathivat (Hawaii Prep) def. Max Linder/McNeil Magdaong (Lahainaluna) 6-1, 6-1
[2] Darin Poei/Lawrence Ho (Iolani) def. Soohan Bong/Cody Kobayashi (Kalani) 6-2, 6-3
First Round Results – Girls Doubles

[1] Katie Kim/Ashley Ishimura (Punahou) def. Ezra Baccar/Charvie Duque (Lahainaluna) 6-0, 6-0
Dani Terukina/Taryn Kimura (Mililani) def. Nicole Aceret/Chantelle Baclay (Lahainaluna) 7-5, 1-6, (9)
[5] Genevieve Flaspohler/Kelly Soares (Hilo) def. Shayna Hokama/Teri Hamada (Mililani) 6-4, 7-5
Christina Agena/Sammy Kida (Pearl City) def. Corin Kim/Sara Kim (Kamehameha Schools Hawaii) 6-1, 6-4
[4] Brooke Alcuran/Kara Okazaki (Iolani) def. Cierra Abellera/Tiera Makaiwi (Kealakehe) 6-0, 6-0
Kaycee Oyama/Kristen Mock (Mililani) def. Camille Ricketts/Hedwyne Santos (Konawaena) 6-3, 6-4
Megan Pacarro/Cherise Tsuha (Pearl City) def. [8] Tayler Duarte/Rachel Pascual (Baldwin) 6-3, 4-6, (7)
Kelsey Kennell/Lauren Jyo (Mililani) def. Yoko Nedlic/Michelle Reed (Kealakehe) 6-2, 6-3
LJ Gabiana/Steffi Molina (Maui) def. Trisha Yuen/Audrey Uhl (Roosevelt) 6-4, 6-4
[7] Kelsey Tasoe/Lisa Nakayama (Iolani) def. Chalee Batunbacal/Abby Okazaki (Kamehameha Schools Maui) 6-1, 6-2
Jennifer Grady/Shay Orial (Kauai) def. Leisha Ishikawa/Shayla Kushi (Waiakea) 6-0, 6-1
[3] Kristen Poei/Sari Kwee (Iolani) def. Shannon Leong/Zyane Bartolome (Moanalua) 6-0, 6-0
Anna Tetsutani/Christie Lane (Kaiser) def. Rayne Izumi-Baltero/Ashley Teshima (Konawaena) 2-6, 6-4, (6)
[6] Kristyn Iwane/Karlene Pang (Hawaii Baptist) def. Shannon Diocares/Rana Stockton (Kalani) 6-3, 6-3
Katie Yamamoto/Shannon Yamamoto (Punahou) def. Rachel Umetsu/Annalissa Hartsell (Waimea) 6-3, 6-0
[2] Sarah Steele/Dani Young (Punahou) def. Kari Hashimoto/Jenny Yuen (Roosevelt) 6-0, 6-1
Round of 16 Results – Boys Singles

[1] Brandon Lee (Punahou) def. Ryan Adachi (Punahou) 6-2, 7-6 (5)
[7] Isaiah Brilhante (Waiakea) def. Ivan Santos (Moanalua) 6-4, 6-0
[3] Alec Wagner (Lahainaluna) def. Daniel Tada (Hilo) 6-2, 6-2
[5] Spencer Travalino (Kealakehe) def. Brandon Bersola (Leilehua) 6-0, 6-4
[8] Daisuke Nakayama (Iolani) def. Bailey Tacub (Kaiser) 6-0, 6-0
[4] Paul Okuda (Punahou) def. Rahnard Gaddis (Mililani) 6-3, 6-1
[6] Jeffrey Liang (Hawaii Baptist) def. Christopher Young (McKinley) 6-2, 6-0
[2] Marcel Chan (Kamehameha Schools Kapalama) def. Mitchell Miyashiro (Kaiser) 6-1, 6-1
Round of 16 Results – Girls Singles

[1] Sarah Dvorak (Waiakea) def. Mari Onoye (Roosevelt) 6-0, 6-0
[8] Daisy Green (Kealakehe) def. Alexis Agustin (Campbell) 2-6, 6-1, (9)
[4] Bobbi Oshiro (Iolani) def. Alina Katase (Hawaii Prep) 6-0, 6-0
[5] Lani-Rae Green (Waimea) def. Lauren Mabuni (Makua Lani Christian) 6-0, 6-0
[7] Cori Cummings (Le Jardin) def. Suzanna Bradley (Punahou) 7-5, 6-1
[3] Skyla Alcon (Mid Pacific) def. Tasha Shaik (Kaiser) 6-2, 6-4
[6] Scout Shutter (Punahou) def. Aleina Tanabe (Kalaheo) 6-0, 6-0
[2] Alyssa Tobita (Mililani) def. Marissa Williams (Seabury) 6-0, 6-2
Round of 16 Results – Boys Doubles

[1] Kawika Lam/Zander Kim (Punahou) def. Justin Uchimura/Coran Yamamoto (Konawaena) 6-0, 6-2
[6] Scott Fukuoka/Ryan Hamamura (Baldwin) def. Zac Villarmia/Andrew Obatake (Pearl City) 7-5, 6-2
[3] Chandler Daub/Jeffrey Gelman (Kealakehe) def. Jerik Centeno/Matthew Kanna (Kauai) 6-1, 6-1
Ethan Fukuda/Kitt Kaneko (Mid Pacific) def. [8] Samuel Matsuura/Christopher Simons (Waiakea) 3-6, 6-2, (5)
[7] Daniel Yamada/Joza Katsube (Kaiser) def. Daniel Han/Buck Thomas (Hawaii Prep) 6-0, 6-3
[4] Connor Yim/Matt Perez (Punahou) def. Matt Mcnish/Sage Katayama (Island Pacific Academy) 7-6 (1), 6-2
[5] Shermann Alconcel/Troy Sekimura (Punahou) def. Ty Tanaka/Calvin Lee (Kalani) 6-1, 6-3
[2] Darin Poei/Lawrence Ho (Iolani) def. Isaac Chey/Santa Chirathivat (Hawaii Prep) 6-1, 6-0
Round of 16 Results – Girls Doubles

[1] Katie Kim/Ashley Ishimura (Punahou) def. Dani Terukina/Taryn Kimura (Mililani) 6-0, 6-1
[5] Genevieve Flaspohler/Kelly Soares (Hilo) def. Christina Agena/Sammy Kida (Pearl City) 7-6 (2), 2-6, (4)
[4] Brooke Alcuran/Kara Okazaki (Iolani) def. Kaycee Oyama/Kristen Mock (Mililani) 6-4, 6-0
Kelsey Kennell/Lauren Jyo (Mililani) def. Megan Pacarro/Cherise Tsuha (Pearl City) 6-0, 6-1
[7] Kelsey Tasoe/Lisa Nakayama (Iolani) def. LJ Gabiana/Steffi Molina (Maui) 6-0, 6-1
[3] Kristen Poei/Sari Kwee (Iolani) def. Jennifer Grady/Shay Orial (Kauai) 6-0, 6-1
[6] Kristyn Iwane/Karlene Pang (Hawaii Baptist) def. Anna Tetsutani/Christie Lane (Kaiser) 6-0, 6-2
[2] Sarah Steele/Dani Young (Punahou) def. Katie Yamamoto/Shannon Yamamoto (Punahou) 6-1, 6-3
Quarter Final Results – Boys Singles

[1] Brandon Lee (Punahou) def. [7] Isaiah Brilhante (Waiakea) 6-3, 6-3
[3] Alec Wagner (Lahainaluna) def. [5] Spencer Travalino (Kealakehe) 5-7, 6-3, (0)
[4] Paul Okuda (Punahou) def. [8] Daisuke Nakayama (Iolani) 7-6 (4), 6-4
[2] Marcel Chan (Kamehameha Schools Kapalama) def. [6] Jeffrey Liang (Hawaii Baptist) 6-1, 6-4
Quarter Final Results – Girls Singles

[1] Sarah Dvorak (Waiakea) def. [8] Daisy Green (Kealakehe) 6-4, 6-0
[5] Lani-Rae Green (Waimea) def. [4] Bobbi Oshiro (Iolani) 6-2, 7-5
[7] Cori Cummings (Le Jardin) def. [3] Skyla Alcon (Mid Pacific) 5-7, 6-4, (8)
[2] Alyssa Tobita (Mililani) def. [6] Scout Shutter (Punahou) 6-4, 6-0
Quarter Final Results – Boys Doubles

[1] Kawika Lam/Zander Kim (Punahou) def. [6] Scott Fukuoka/Ryan Hamamura (Baldwin) 6-0, 6-1
[3] Chandler Daub/Jeffrey Gelman (Kealakehe) def. Ethan Fukuda/Kitt Kaneko (Mid Pacific) 6-1, 6-1
[4] Connor Yim/Matt Perez (Punahou) def. [7] Daniel Yamada/Joza Katsube (Kaiser) 6-3, 6-2
[2] Darin Poei/Lawrence Ho (Iolani) def. [5] Shermann Alconcel/Troy Sekimura (Punahou) 6-2, 7-6 (10)
Quarter Final Results – Girls Doubles

[1] Katie Kim/Ashley Ishimura (Punahou) def. [5] Genevieve Flaspohler/Kelly Soares (Hilo) 6-0, 6-0
[4] Brooke Alcuran/Kara Okazaki (Iolani) def. Kelsey Kennell/Lauren Jyo (Mililani) 6-2, 6-0
[3] Kristen Poei/Sari Kwee (Iolani) def. [7] Kelsey Tasoe/Lisa Nakayama (Iolani) 6-2, 6-1
[2] Sarah Steele/Dani Young (Punahou) def. [6] Kristyn Iwane/Karlene Pang (Hawaii Baptist) 7-5, 6-2
Semi Final Results – Boys Singles

[1] Brandon Lee (Punahou) def. [3] Alec Wagner (Lahainaluna) 6-4, 6-2
[2] Marcel Chan (Kamehameha Schools Kapalama) def. [4] Paul Okuda (Punahou) 6-2, 6-3
Semi Final Results – Girls Singles

[1] Sarah Dvorak (Waiakea) def. [5] Lani-Rae Green (Waimea) 6-0, 6-1
[2] Alyssa Tobita (Mililani) def. [7] Cori Cummings (Le Jardin) 6-4, 6-1
Semi Final Results – Boys Doubles

[1] Kawika Lam/Zander Kim (Punahou) def. [3] Chandler Daub/Jeffrey Gelman (Kealakehe) 7-6 (6), 6-1
[2] Darin Poei/Lawrence Ho (Iolani) def. [4] Connor Yim/Matt Perez (Punahou) 6-4, 6-2
Semi Final Results – Girls Doubles

[1] Katie Kim/Ashley Ishimura (Punahou) def. [4] Brooke Alcuran/Kara Okazaki (Iolani) 6-1, 1-6, (8)
[3] Kristen Poei/Sari Kwee (Iolani) def. [2] Sarah Steele/Dani Young (Punahou) 6-3, 7-5
Championships – Boys Singles

[2] Marcel Chan (Kamehameha Schools Kapalama) def. [1] Brandon Lee (Punahou) 4-6, 6-3, 7-5
Third Place – Boys Singles

[4] Paul Okuda (Punahou) def. [3] Alec Wagner (Lahainaluna) 6-3, 4-6, 6-2
Championships – Girls Singles

[2] Alyssa Tobita (Mililani) def. [1] Sarah Dvorak (Waiakea) 6-4, 7-5
Third Place – Girls Singles

[5] Lani-Rae Green (Waimea) def. [7] Cori Cummings (Le Jardin) 6-2, 6-3
Championships – Boys Doubles

[1] Kawika Lam/Zander Kim (Punahou) def. [2] Darin Poei/Lawrence Ho (Iolani) 6-0, 6-4
Third Place – Boys Doubles

[3] Chandler Daub/Jeffrey Gelman (Kealakehe) def. [4] Connor Yim/Matt Perez (Punahou) 6-1, 6-3
Championships – Girls Doubles

[1] Katie Kim/Ashley Ishimura (Punahou) def. [3] Kristen Poei/Sari Kwee (Iolani) 6-2, 6-1
Third Place – Girls Doubles

[2] Sarah Steele/Dani Young (Punahou) def. [4] Brooke Alcuran/Kara Okazaki (Iolani) 6-3, 6-2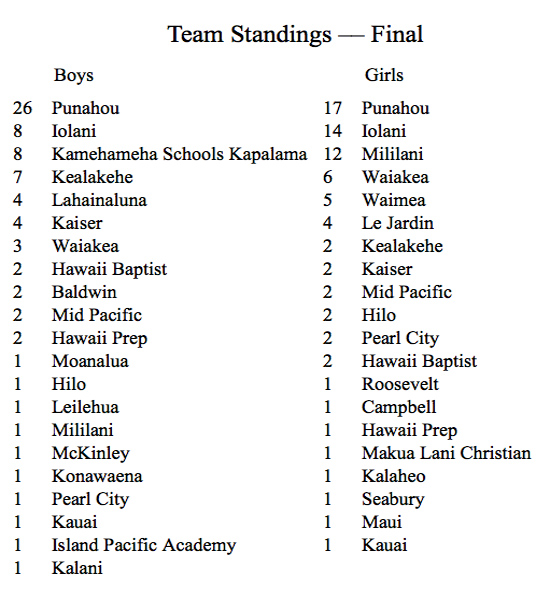 — Find out more:
www.sportshigh.com