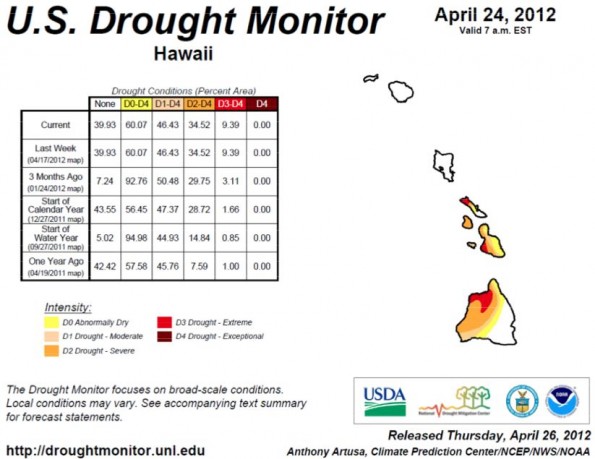 Weather Review
On April 24, 2012, the U.S. Drought Monitor reported no change in drought conditions from those of last week. A total of 60.07 percent of land area was rated as being in some stage of drought. The seasonal drought outlook for Hawaii from April 19 through July 31, 2012 indicated drought conditions are likely to either persist or intensify for leeward areas in Hawaii and Maui Counties.
Hawaii County
Normal trade wind type weather prevailed this week. Precipitation fell mostly in windward areas and dry conditions persisted in leeward areas. Windward rains were light and scattered throughout the week, increasing to heavier rains on Sunday. Highest recorded rainfall from Sunday to Monday was 2.16 inches in Mountain View. Longer days and intermittent sun aided growth in most windward areas. Leeward conditions were mostly dry and hazy, though the Kealakekua and Honaunau areas continued to receive scattered light rain through the week. South Kohala and North Kona areas are still very dry, and a brushfire was reported in the Kawaihae area on Monday, April 23. Conditions from South Kona to Ka`u appear to be improving somewhat, with some crops and pastures visibly benefitting from recent light rain. The Waimea Irrigation System's water level was marked at 50.00 feet (51.7 million gallons) on Monday, April 30, 2012, unchanged from the reading taken April 23, 2012. Conservation status remained unrestricted.
Maui County
Sunny and fair weather conditions were present throughout Maui County. Brief late night showers were noted over isolated sections on windward areas. Most crops required increased irrigation to maintain steady growth due to the decreased amount of rainfall. Water supplies continued to be available; however with no significant rainfall in the watershed over the past weeks, water supply was becoming an increasing concern. Pasture condition in most areas of Maui County continued to decline. The Molokai Irrigation System water level was marked at 16.25 feet (357.5 million gallons) on Monday, April 30, 2012, unchanged from the reading taken on Monday April 23, 2012. Mandatory 30 percent water conservation measures were in effect for all non- homestead users.
Honolulu County
Across the island of Oahu, an average weekly total rainfall of 0.33 inch was recorded by the National Weather Service's system of automated rain gauges. The Waimanalo Irrigation System water level was marked at 51.50 feet (41.1 million gallons) on Monday, April 30, 2012, up 0.75 foot or 1 percent from the reading taken on the previous Monday. A voluntary 10 percent conservation status is in effect.
Kauai County
Kauai received an island-wide average rainfall of 0.52 inch this week. The largest daily total was 0.69 inch recorded in the Hanalei district on Monday April 23, 2012.
Agricultural Highlights
Orchards and Vegetables
April was a very dry month and more rain was needed in non-irrigated crop areas. April precipitation totals fell approximately 60 percent below the historic averages across all islands.
Livestock and Pasture
Overall pasture conditions declined as the dry weather persisted.
Full Crop Weather Report PDF