MEDIA RELEASE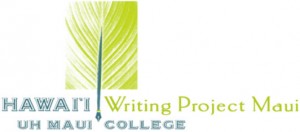 When most people think about a 21st century education it's highly probable that science and math immediately comes to mind, but good communication skills in general and writing in particular are essential for any 21st century career path. The process of writing encourages critical thinking; it's the essential platform to convey ideas, solve problems, and leads to a better understanding of our rapidly changing world.
But to teach students those essential writing skills, educators first need have access to professional development. That's why each year the Hawai'i Writing Project (HWP), an affiliate of the National Writing Project housed at the University of Hawai'i Maui College, works with up to fifteen educators across grades and disciplines to introduce them to writing practices and theories that will motivate teachers and students alike.
Those who complete the Invitational Summer Institute become teacher consultants whose job it is to provide motivation and leadership in the teaching of writing within their communities.
"Together we're dedicated to improving writing instruction in our nation's schools and to promoting the use of writing as a tool for thinking and literacy learning across disciplines," said Director of the Hawaii Writing Project, Maui, and UH Maui College English Instructor, Marnie Masuda.
Past guest presenters for the project have included local writers like Paul Wood and Rebecca Walker, along with superstars from Maui schools. Walker, a best-selling author, is slated to present again this summer.
Full tuition scholarships are available for all Invitational Summer Institute participants.
For graduate credit: Teachers can earn six graduate credits in the Department of Curriculum Studies (CS 604). Some fees apply totaling approximately $100-$150; completion of institute and classroom inquiry project required.
For DOE credit: Teachers can earn five Department of Education credits after they complete a classroom inquiry project. Teachers must register for the institute at the DOE professional development website: pde3.k12.hi.us
The application deadline is May 15th, and the 2012 Summer Writing Project Institute will take place June 25th – July 3rd on the UH Maui College campus.
For more information, contact Marnie Masuda at 808-984-3435 or email marniem@hawaii.edu