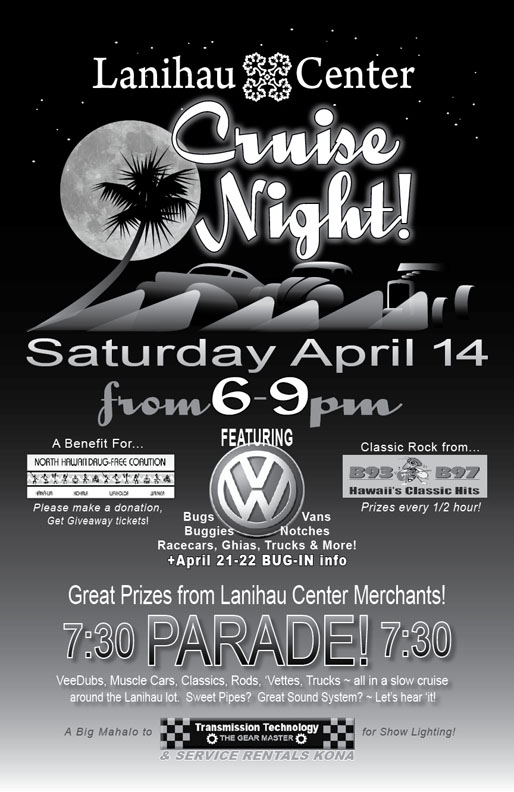 MEDIA RELEASE
Lanihau Center presents its monthly Cruise Night this Saturday evening, April 14th, from 6 until 9 p.m. The featured marque will be Volkswagen, with Beetles, Ghias. Things, trucks, vans, notchbacks and VW race cars coming from all over the Big island to celebrate "the people's car" in the Bank of Hawaii parking lot facing Palani Road. The Big Island VW Club will have a display under the DJ tent with information about their upcoming Bug-In at the Hilo Dragstrip.
Along with special parking for VWs, over 50 parking stalls will be reserved for owners of other unique vehicles to show off their cars, trucks and motorcycles during the free event. Everything from all-American hot rods and muscle cars, to classic cars and trucks, sports cars and antiques are invited to cruise in and out during the three hour affair.
At 7:30 Saturday night the Volkswagens will fire-up and lead a parade of participating Cruise Night vehicles around the Lanihau Center parking lots. The parades offer a great video opportunity, with flashing chrome and the rumble of engines filling the evening air.
Also featured this Saturday evening will be volunteers from the non-profit North Hawaii Drug-Free Coalition. The community groups from Hamakua, Kohala, Waikola and Waimea that make up the organization strive to keep kids drug-free by involving them in activities and programs that stress clean living.
One of their projects is the Roots Skatepark in Hawi, which will feature skaters doing tricks for the public about 8 p.m. Along with the post-parade skate show, Tommy Johnson of Honokaa will have his 565 cubic inch Fiat Altered-class race car on hand and it will be fired up after the skate demonstration.
Lanihau Center merchants donate prizes for giveaways every half hour from the DJ tent in the center of the show. The host MC will be G.Cruz from KWXX/B93-B97 radio who will provide the beat for the evening with classic rock 'n roll.
Extra lighting provided by Transmission Technology gives the monthly Cruise Nights additional sparkle for the candy colored paint jobs and the music, prizes and camaraderie make for a night of free family fun.
For more info contact event manager Paul Maddox via Email: zoom96740@gmail.com, or visit lanihau.com on the web.