MEDIA RELEASE
GEAR UP Hawaii sponsors "Take Charge of Your Future" script challenge

Commercial script writing challenge is open to Hawaii students in grades 6-12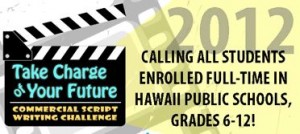 HONOLULU – GEAR UP Hawai'i, a program under Hawai'i P-20 Partnerships for Education, is proud to sponsor with Oceanic Time Warner Cable and Clear Channel Hawai'i, the "Take Charge of Your Future Commercial Script Writing Challenge."
"It's never too early for students to start thinking about college and a career and this contest is designed to help raise awareness about the importance of preparing for one's future," said Angela Jackson, project director for GEAR UP Hawai'i.
Students in sixth through twelfth grade in Hawai'i public schools are encouraged to write a script for a 30-second public service announcement, or PSA, which can be produced for TV and also aired on radio. The script should promote the importance of preparing for college and career in a fun and entertaining way and create a lasting impression in the viewers' minds. The script for the commercial must be 30 seconds or less (approximately 60-80 words).
The winning students will receive a new iPad and other prizes, and one winner will have their PSA professionally produced into a commercial to air on various Oceanic Time Warner Cable stations in Hawai'i and recorded and aired on selected Clear Channel Hawai'i or neighbor island radio stations.
The contest runs from April 1-21. To enter and for complete contest rules and information, visit the GEAR UP Hawai'i website. http://gearup.hawaii.edu