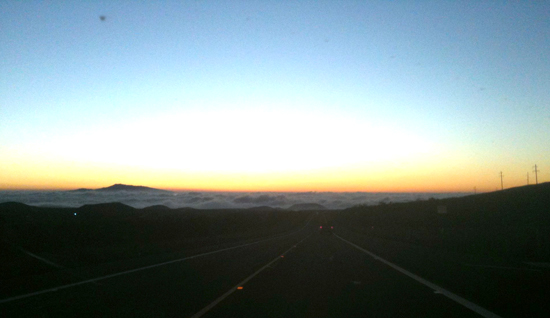 Karin Stanton | Hawaii 24/7 Editor
Driving west on Saddle Road was a little eerie Friday evening.
The sun set behind the clouds, which were lower than the road just west of Pohakuloa Training Area. The scene made for some awesome colors, although that is not clear in this photograph.
It's a cell phone snap through my rather grimy windshield.
I would have stopped, found my camera and taken a proper photograph, but I was in the 'emergency stopping only' section of the highway near the military camp. I was not sure stopping to take a cool sunset photo constitutes an 'emergency.' At least, I didn't think I could convince the U.S. military it was truly urgent …
Still, when you are heading home after a great day on the Hilo side and you are peering down on clouds, it makes you feel like you're on top of the world.