MEDIA RELEASE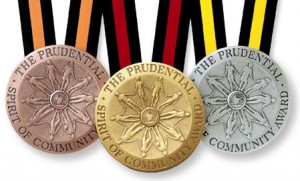 WASHINGTON, D.C. – America's 102 most outstanding youth volunteers – two from each state and the District of Columbia – were named State Honorees today by The Prudential Spirit of Community Awards, a nationwide program honoring young people for exemplary acts of volunteerism. The awards program, now in its 17th year, is conducted by Prudential Financial, Inc. in partnership with the National Association of Secondary School Principals (NASSP).
Each of the 102 State Honorees will receive $1,000, an engraved silver medallion and an all-expense-paid trip to Washington, D.C., May 5-8 for several days of national recognition events. Ten of them will be named America's top youth volunteers for 2012 at that time.
In addition to the State Honorees, the program's judges recognized 234 students nationwide as Distinguished Finalists for their impressive community service activities. Each will receive an engraved bronze medallion. More than 500 other applicants were awarded Certificates of Excellence for their volunteer work.
A large number of State Honorees and Distinguished Finalists this year – 20 percent – conducted volunteer activities to address needs overseas, especially in Africa, Latin America and Japan. Honorees traveled to volunteer in orphanages, build homes, and teach impoverished children. In their own communities, they collected food, medical supplies, clothing, books, school supplies, eyeglasses, teddy bears and soccer cleats to send overseas. And they raised money to finance school tuitions, refugee relief, AIDS medications, clean-water projects and other critical needs in desperate communities around the world.
There was a great deal of energy devoted to needs in the U.S., as well. Many honorees were recognized for assisting Americans who are sick or disabled, aiding the disadvantaged, tutoring or mentoring other young people and promoting health and safety. Others were cited for enhancing school or community resources, protecting the environment, taking care of animals and supporting U.S. troops in Iraq and Afghanistan. Information on the volunteer activities of all of the honorees can be found at spirit.prudential.com
"Through their selfless acts of service, these award recipients have greatly improved the lives of others," said Prudential Chairman and CEO John Strangfeld. "We hope their stories and their dedication inspire other young people to do the same."
"We are so pleased to celebrate these student volunteers," said JoAnn Bartoletti, executive director of NASSP. "It's important to highlight them as powerful examples of how young people can make a difference."
Candonino Agusen
State Honoree
Candonino Agusen, 16, of Kailua-Kona, Hawaii, a junior at Kealakehe High School, helped raise more than $64,000 to buy temporary housing kits for people displaced by the earthquake in Japan last year. As president of the Interact service club at his high school, Candonino was no stranger to community service, having participated in several projects over the years, including sending care packages to soldiers in Afghanistan. However, when a massive earthquake hit Japan, triggering a powerful tsunami that wreaked havoc on the Hawaiian shoreline, he felt a new urgency to volunteer. "As bad as it was, I saw that our disaster was not nearly as devastating as the widespread damage and destruction in Japan," Candonino said. "People were dying and desperately in need of life-saving shelter and equipment. They were suffering through cold, rain, and snow."
Candonino recruited others to help him buy "Shelterboxes" that include a tent, equipment, and 30-day supplies for up to 10 people. They set up a table with collection jars in front of a local store and displayed boards showing a Shelterbox and its contents. In addition, Candonino campaigned vigorously for donations on Facebook. Within a few weeks, his team raised more than $64,000, enough to take care of 640 earthquake victims for a month. Candonino contributed another $2,000 by making a thousand paper origami cranes and sending them to Japan as a symbol of support. Candonino said, "I learned that overnight everything can change instantly, but disaster can bring people together for the good of all."
Scott Fetz
Distinguished Finalist
Scott Fetz, 16, of Kailua-Kona, Hawaii, a sophomore at Hawaii Preparatory Academy in Kamuela, is a passionate community advocate and volunteer whose service began when he opened and managed a school store that raised more than $12,000 to purchase school supplies. Since then, he has become an active member of numerous service groups, including SADD, American Red Cross, and the Service Learning Advisory Council, and has created a number of school service projects including a beautification project and a unity program.
About The Prudential Spirit of Community Awards
The Prudential Spirit of Community Awards represents the United States' largest youth recognition program based solely on volunteer service. All public and private middle level and high schools in the country, as well as all Girl Scout councils, county 4-H organizations, American Red Cross chapters, YMCAs and affiliates of HandsOn Network, were eligible to select a student or member for a local Prudential Spirit of Community Award. More than 5,000 Local Honorees were then reviewed by an independent judging panel, which selected State Honorees and Distinguished Finalists based on criteria including personal initiative, creativity, effort, impact and personal growth.
While in Washington, D.C., the 102 State Honorees – one middle level and one high school student from each state and the District of Columbia – will tour the capital's landmarks, attend a gala awards ceremony at the Smithsonian's National Museum of Natural History, and visit their congressional representatives on Capitol Hill. In addition, 10 of them – five middle level and five high school students – will be named National Honorees on May 7. These honorees will receive additional $5,000 awards, gold medallions, crystal trophies and $5,000 grants from The Prudential Foundation for nonprofit charitable organizations of their choice.
Since the program began in 1995, more than 100,000 young volunteers nationwide have been honored by The Prudential Spirit of Community Awards at the local, state or national level. The program also is conducted by Prudential subsidiaries in Japan, South Korea, Taiwan, Ireland and India. In addition to granting its own awards, The Prudential Spirit of Community Awards program also distributes President's Volunteer Service Awards to qualifying Local Honorees on behalf of President Barack Obama.
For information on all of this year's Prudential Spirit of Community State Honorees and Distinguished Finalists, visit spirit.prudential.com or www.nassp.org/spirit