Karin Stanton | Hawaii 24/7 Editor
Construction of Phase I is now fully funded and Hawaii Community College Palamanui is expected to open its doors to students in fall 2014.
The University of Hawaii accepted $9.68 million Tuesday, Jan. 31 from Palamanui LLC — a partnership between Hunt Companies and Charles R. Schwab — to begin construction of the university's first permanent physical campus on the Big Island's west side.
The initial contribution of more than $5.2 million was delivered to the university this week. An additional $4.4 million has been placed in escrow and will be released to the university upon completion of the mid-level road connecting Kona Palisades to the new campus, which the university is building and expects to complete in April.
Mayor Billy Kenoi thanked the developers for their "promises kept" as "the kids in West Hawaii deserve the opportunity for higher education."
Kenoi noted he got his start at a community college.
"Education is the great equalizer," he said. "It gives everybody a shot. The outlook for our children's future just got brighter."
Building the campus makes higher education possible for hundreds of local families, he said.
"Our children will be able to learn skills and new technologies so they can compete for higher paying jobs," Kenoi said. "I commend Palamanui LLC and its partners and appreciate their honorable fulfillment of promises made."
University of Hawaii President M.R.C. Greenwood acknowledged West Hawaii is one of the most underserved regions of the state.
She said she recognized very quickly upon arriving in Hawaii nearly three years ago that "this was going to transform lives."
"The recession has made it very difficult to get down projects that seemed easy," she said. "This is the beginning of something you will treasure. The new Hawaii Community College Palamanui campus will provide educational pathways to a better future not just to Hawaii island residents, but to the residents of the entire state."
Representing the University of Hawaii Board of Regents, Vice Chair James H. Q. Lee also spoke at the ceremonial check passing Tuesday at West Hawaii Civic Center.
"A college education creates opportunities for a better life," he said. "Community colleges, with their low cost and open access, are the entry point for many who have traditionally been left out of higher education. We are gratified by and appreciative of the efforts of all who helped bring this promise to the residents of West Hawaii. Our West Hawaii Regent, Carl Carlson, Jr., is out of state today but he, Chair Eric Martinson and the entire Board send their thanks to the many who made today possible."
Steve Colon, Hunt Companies Hawaii Division President representing Palamanui LLC said, "On behalf of Hunt Companies and Charles R. Schwab, I am thrilled to announce that Palamanui has honored its commitment to provide the financial catalyst to make the Hawaii Community College Palamanui campus a reality. This campus has been a dream for many in the West Hawaii community for a long time, and it is especially gratifying to know that our efforts will guarantee its fruition."
Palamanui LLC will soon begin infrastructure improvements worth another $10 million for the university to connect to electricity and water lines. This necessary infrastructure will increase the Palamanui investment to nearly $20 million and will enable the completion of the planned first phase of the campus.
The Hawaii Community College Palamanui campus has been in the development stage for at least eight years and although it has suffered setback due to the challenging economic times, it it now on target to welcome students the second part of 2014.
Jim Lally, a community advocate for higher education and UH Foundation Board member, commented, "The Hawaii Community College Pālamanui campus is a shining example of a project that required the collaboration of state, federal, county and private entities, pooling their resources and expertise, to invest in West Hawaii's future to serve our community. I couldn't be more proud to have been a part of this collaborative effort to bring higher education opportunities to West Hawaii."
Hawaii Community College Chancellor Noreen Yamane said, "Hawaii Community College Palamanui will build and expand upon providing access to higher education opportunities, train a skilled workforce and support economic development in this region. The vision, hopes and dreams for this campus are beginning to come true."
Yamane said the current campus serves about 750 students, although that number will rise greatly when the Palamanui campus is built out.
Comprehensive building plans are now being finalized and should be completed within one month.
The University of Hawaii expects apply for building permits and put the first phase of the project out to bid in the first quarter of 2012. A blessing, groundbreaking and the start of construction for the Palamanui campus is expected this summer.
The first phase of the Palamanui campus, upon completion in 2014, will become the 11th campus comprising the University of Hawaii System.
Greenwood said it is not unusual for a project as large as a college campus to take a long time to get kickstarted. She pointed to the West Oahu Community College, which was in the planning process for 18 years.
Lining up community and state support, public and private funding, land and permits, and earning the confidence of all the stakeholders takes time and tremendous effort, she said.
Greenwood and Yamane said Palamanui would start small and grow into a two-year branch campus of the Hilo community college, then possibly into a full blown two-year comprehensive community college.
Yamane said the possibilities are myriad, with the vast natural resources available, from marine and ocean sciences to vulcanology to agriculture.
"It begins with a vision," she said.
Still, the funding is only in place for construction.
Jean Hull, long-time culinary instructor, is leading a team to raise $1 million to equip the kitchen for the culinary program, and the campus also will need to be furnished and fitted with telecommunications equipment.
Hull said donations are being accepted through the ACF-Kona Kohala Chapter. Donations may be sent to ACF, P.O. box 1268 Kailua-Kona, HI 96745.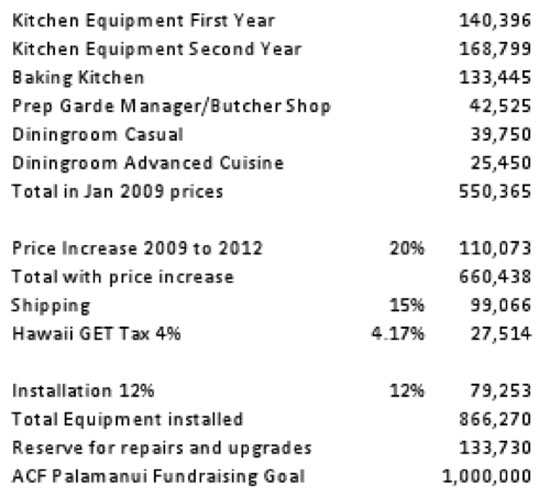 ABOUT THE UNIVERSITY OF HAWAII SYSTEM
Established in 1907 and fully accredited by the Western Association of Schools and Colleges, the University of Hawaii is the state's sole public system of higher education. The UH System provides an array of undergraduate, graduate, and professional degrees and community programs on 10 campuses and through educational, training, and research centers across the state. UH enrolls more than 55,000 students from Hawaii, the U.S. mainland, and around the world. For more information about the University of Hawaii System, visit www.hawaii.edu
ABOUT HAWAII COMMUNITY COLLEGE
The University of Hawaii currently serves the west side of Hawaii island through the University of Hawaii Center in West Hawaii, one of three University Centers established by the Board of Regents (BOR) in June 1996. The center provides access to multiple disciplines, and serves as a receive site for courses, course sequences and/or a limited number of complete BOR-authorized credential programs that originate from other campuses of the University of Hawaii System.
In addition to Hawaii Community College programs, the center facilitates the delivery of baccalaureate and master's programs to West Hawaii. Students may apply/register for distance education courses found at other community colleges in the UH System. Hawaii Community College serves West Hawaii at the UH Center in Kealakekua with classrooms, a nursing learning center, a dining room/kitchen, computer lab, library, learning center and administrative offices. Distributed Learning HITS and video conferencing classrooms provide West Hawaii students the opportunity to attend live classes locally while pursuing a degree through the UH System.
For more information on how you can support the Hawaii Community College Palamanui campus in West Hawaii, please contact Cordy MacLaughlin at (808) 344-8782 or Cordy.MacLaughlin@uhfoundation….
To make a gift and support facilities, programs and students at Hawaii Community College Palamanui campus, visit www.uhfoundation.org/Palamanui
The University of Hawaii Foundation, a nonprofit organization, raises private funds to support the University of Hawaii System. Our mission is to unite our donors' passions with the University of Hawaii's aspirations to benefit the people of Hawaii and beyond. We do this by raising private philanthropic support, managing private investments and nurturing donor and alumni relationships. For more information about the UH Foundation, visit www.uhfoundation.org
ABOUT PALAMANUI LLC
Palamanui is an innovative mixed-use community located on 725 acres mauka and about a mile north of the Kona International Airport. The property is located adjacent to 500 acres of state land that has long been earmarked for higher education and intended to be the site of the Hawaii Community College Palamanui campus.
The name Palamanui, meaning an enclosure of abundant education, inspired the design philosophy behind this master-planned development. This mixed-use community, thoughtfully designed around a central town center and connected with an extensive network of walking and biking trails, will have 1,116 homes. It also features over 230 acres of open space, a 70-acre business park, a 20-acre regional park, and a 55-acre dry forest preserve.
Palamanui LLC is a partnership between Hunt Companies, Inc., Mr. Charles R. Schwab and local Kona contractor Guy Lam.
ABOUT HUNT
Founded in 1947, and operating in Hawaii since 1991, Hunt Companies, Inc. has become a leading national privately-owned real estate developer, investor and manager. Hunt's focus and experience is in sectors such as public-private partnerships, military housing, mixed-use, multi-family housing, master-planned communities, government build-to-lease programs, retail, and office. The services Hunt provides to these sectors include Investment Management, Development, Construction Services, and Asset and Property Management Services.
Hunt and its affiliates have $10 billion in Assets Under Management. These assets include 114,000 multi-family housing units, 4.3 million square feet of commercial, 1.5 million square feet of industrial and 1.8 million square feet of retail. Hunt's expertise is also comprised of over 89,000 housing units built, thousands of acres of land developed, and over 400 projects completed in 32 states. Development project costs have been in excess of $6.3 billion, with over $8.1 billion in construction costs.
Hunt's 2010 gross revenue was more than $900 million. Hunt Companies, Inc. is headquartered in El Paso, Texas, with regional offices in Honolulu, Chicago, Washington, D.C., Denver, Philadelphia, Los Angeles, Memphis and London. For more information, visit www.huntcompanies.com
Palamanui ACF Flyer