MEDIA RELEASE
See's Candies, Inc. Issues Allergy Alert on 8 ounce Almond Clusters, Code SF 088/12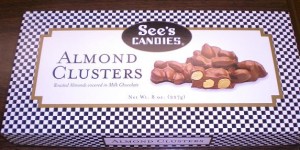 See's Candies, Inc. of San Francisco, Calif., is recalling one code of 8 ounce Almond Clusters, because they may contain peanuts. People who have an allergy or severe sensitivity to peanuts run the risk of serious or life-threatening allergic reaction if they consume this product. The total number of boxes produced that may contain peanuts is 3,600.
The product was distributed to See's Holiday Gift Centers and Licensee locations in Arizona, California, Colorado, Hawaii, Indiana, Kansas, Maryland, Michigan, North Carolina, Nevada, New York, Nebraska, Oklahoma, Oregon, Virginia, Washington, Florida, Georgia, Tennessee, Texas, Mississippi and Louisiana.
The product is sold individually in boxes labeled See's Candies Almond Clusters, 8 oz. The only code affected by this recall is SF 088/12, and is visible on the back of the box.