MEDIA RELEASE
In cooperation with the Ready Pac Foods recall of bagged salads containing romaine lettuce due to possible E.coli O157:H7 contamination, Safeway is recalling four Safeway Farms brand bagged salads in 14 states. The following salads with the "Best if Used By" dates, Lot Numbers and UPC codes below are subject to the recall: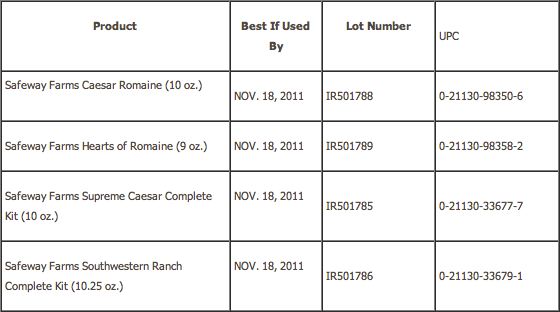 The "Best if Use-by Date" and Lot Number can be found in the upper left hand corner of the package. The UPC code is located on the back of the bag.
The recalled salads were sold between November 7 and November 16 at Safeway, Carrs, Pavilions, Pak 'N Save, Randalls, Tom Thumb and Vons stores in the following states:
Alaska
Arizona
California
Colorado
Hawaii
Idaho
Montana
Nebraska
Nevada
New Mexico
Oregon
South Dakota
Texas
Washington
Wyoming
Ready Pac's voluntary recall was initiated based on a single positive random sample result for E.coli O157:H7 reported to Ready Pac by the FDA. While no illnesses have been reported to date, customers who purchased this product should discard it or return it for a full refund.
E. coli O157:H7 is a potentially deadly bacterium that can cause bloody diarrhea, dehydration, and in the most severe cases, kidney failure. The very young, seniors and persons with weak immune systems are the most susceptible to foodborne illness.
Customers with questions about this recall can contact a Ready Pac Consumer Affairs representative, (800) 800-7822, Monday – Friday, 8 a.m. to 5 p.m. (Pacific Time) or contact Safeway at 1-800-SAFEWAY.