Start of the Ironman Triathlon. Video courtesy of the Office of the Mayor, County of Hawaii.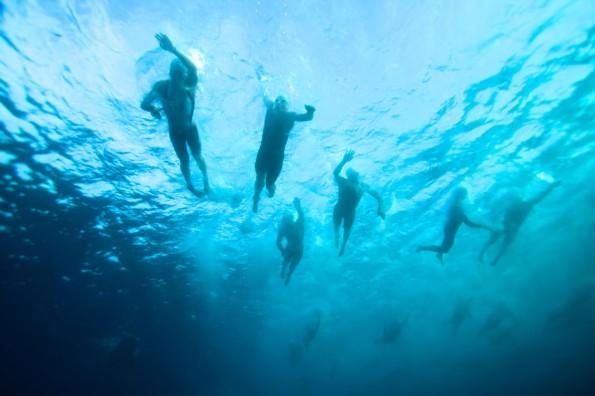 Ford Ironman World Championship start from under Kailua Bay. Photo special to Hawaii 24/7 by Angy Chesler | vip-wedding-hawaii.com
IronmanLive.com Coverage
Karin Stanton | Hawaii 24/7 Editor
The Ironman World Championship winners are familiar names: Craig Alexander and Chrissie Wellington.
Alexnder set a new course record in 8 hours, 03 minutes, 56 seconds.
The previous course record was 8:04:08 was set in 1996 by Belguim's Luc Van Lierde.
Many Iron-watchers had predicted Van Lierde's record may never be broken as construction and minor course changes meant the run is much tougher. The race is billed as one of the most notorious in the world and includes a 2.4-mile ocean swim, 112-mile bike leg through the viciously hot and windy lava fields and a full 26.2-mile marathon in and around Kona village.
Alexander, 38, of Australia, was fourth last year after two years as champion. He now owns three Ironman World Championships and two Ironman 70.3 World Championships, scooping up his second 70.3 title just last month.
"I wish I could tell you how it feels," Alexander said. "It's unbelievable. I wish everyone in the world could feel what I felt in that last mile. It's the finish I've been dreaming of."
The day's second most impressive men's race also was by an Australian. Pete Jacobs, 30, recorded 8:09:11 to finish right behind Alexander and secure the fourth fastest time ever.
The men's podium was rounded out by Andreas Raelert, 35, of Germany, who last year was second. His time was 8:11:07.
Alexander joins Dave Scott, Mark Allen and Peter Reid as the fourth man to win the world title three times.
He also became the first person ever to earn Ironman World Championship 70.3 and Ironman World Championship titles in the same year.
Craig Alexander on his third world championship:
"It's beyond belief really. My race today was near perfect. Getting beaten last year hurt a lot. You saw the fruits of 12 months planning today. It's not just a physical race anymore. It's strategy now. I wanted to race like an athlete who'd won here before, with that confidence. I think of the people who have raced here. I am aware of the history and I'm totally humbled."
A nasty virus kept Alexander out of training for the first part of the ear and made him cough so hard he cracked a couple of ribs. He was in fine shape Saturday, however, and shaved 13 minutes off his personal best bike time.
Alexander excelled over an impressive men's line up, including last year's runner-up, Germany's Andreas Raelert, as well as fellow Australian Pete Jacobs, Luxembourg's Dirk Bockel, Germany's Timo Bracht and American Chris Lieto.
American Andy Potts was out of the water first, but Lieto pushed ahead early on the bike to build a gap on the men's faster runners. Lieto maintained his lead through six miles of the run when the chase pack took over and Alexander made his move for the front position.
Alexander crossed the finish line more than 5 minutes ahead of Jacobs, who ran the fastest run split of the day.
In the women's division, Chrissie Wellington, 34, of Great Britain, had to gut it out for her fourth world title, finishing in 8:55:08.
"This race means more to me than anything. It's the sweetest victory – I just proved that anything is possible," she said. "I had to dig so deep today. I tried to have faith in my body. To be crowned the Ford Ironman World Champion is the greatest honor."
Wellington took herself out of last year's race due to illness and was determined to prove the crown rightfully belongs to her. She went into Saturday's race still suffering from the effects of a nasty bike crash two weeks ago.
A flat tire and sharp turn during a training ride left Wellington with a nasty case of road rash all along her left side. X-rays proved she did not break anything, but she said at Thursday's pre-race press conference, the bruising and scratches were still bothering her. Wellington also revealed she torn a pectoral muscle during a swim earlier in the week.
Wellington was sixth off the bike and ran her way to the front of the pack by mile 18.
Last year's champ, Mirinda Carfrae, 30, of Australia, wasn't going to let Wellington snatch back the title that easy, and was hunting her from behind.
Wellington was still at the finish line when Carfrae breezed in at 8:57:57. Carfrae set the run course record last year at 2:53:32 and lowered that time to 2:52:09.
For nearly 2 minutes, Wellington held the run record at 2:52:41. She was waiting at the finish line when Carfrae cruising in.
"My victory is also hers," Wellington said. "I want to congratulate her on an amazing second place."
Wellington's time was the second fastest women's time ever. Wellington set the course record of 8:54:02 in 2009.
Wellington on her fourth world championship:
"I definitely knew I was going to toe the start line. My confidence coming in always had that asterisk after the crash. Ironman is very long day. That was definitely a true test of my mental toughness. I felt like giving up at various points. For me, the time is irrelevant. I judge success on whether I've give the race absolutely everything. I left every ounce of heart and soul out there today."
Carfrae on coming back to Kona as the reigning world champion:
"It was a day out there today and it was emotional. You can't give a champion like Chrissie a second, let alone 3 minutes. I felt horrible for the first half of the run. I thought I was in for a 3 hour marathon, but it was probably my best marathon here. She was just too fast for me today."
Carfrae has lowered the run course record each of her three starts in Kona. Wellington held the record for 2 minutes, 49 seconds after she crossed the finish line, but Carfrae took the record straight back with her run of 2:52:09.
Karin Thuerig, of Switzerland, competing in her last Ironman, set a new bike course record at 4:44:20. Thuerig bested her own bike record 4:48:22, which she posted last year.
American Amanda Stevens was the first out of the water, followed closely by Julie Dibens, of Great Britain. Dibens maintained a sizable lead over the other women up until the beginning of the run, when a reoccurring toe injury slowed her pace and opened the door for Steffen to take the lead.
Entering into the Natural Energy Lab, Wellington passed Steffen and kept a quick pace for the remainder of the race, holding off Carfrae through the last 10 miles.
Race officials said the temperature out on Queen Kaahumanu Highway reached 135 at midday and the heat was starting to take its toll.
According to Ironman, 1,918 athletes started the race and 1,774 finished before the 17-hour cut off.
This year's Ironman World Championship broadcast will air 10:30 a.m.-noon Dec. 10 on NBC.
— Find out more:
www.ironman.com
Chrissie Wellington's fourth world title
Craig Alexander's third world title
The top-15 men:
1 08:03:56 1 Alexander, Craig Boulder CO USA 51:56 4:24:05 2:44:03
2 08:09:11 11 Jacobs, Pete sydney NSW AUS 51:38 4:31:03 2:42:29
3 08:11:07 10 Raelert, Andreas Rostock MV GER 51:58 4:26:52 2:47:48
4 08:12:58 33 Bockel, Dirk Bereldange LUX LUX 51:44 4:24:17 2:53:04
5 08:20:12 9 Bracht, Timo Eberbach BAW GER 53:37 4:35:07 2:47:26
6 08:21:07 44 Aigroz, Mike Chateau d oe VD SWI 52:31 4:30:44 2:54:08
7 08:22:15 2 Tissink, Raynard Port Elizabe EC RSA 52:08 4:28:40 2:56:37
8 08:23:19 31 Boecherer, Andi Freiburg YES GER 51:49 4:25:46 3:01:44
9 08:25:42 19 McKenzie, Luke Bend OR USA 51:47 4:24:16 3:05:54
10 08:27:18 5 Al-Sultan, Faris Al-Ain ABU ARE 51:55 4:29:32 3:01:41
11 08:29:02 26 Lowe, Tom Ludlow SHR GBR 58:55 4:26:28 2:58:55
12 08:31:20 43 Fontana, Daniel settimo mila ITA ITA 51:54 4:30:59 3:04:04
13 08:35:18 49 Albert, Marko Tallinn HAR EST 51:43 4:36:43 3:02:56
14 08:35:53 27 Henning, Rasmus Tuineje ISL ESP 51:48 4:31:12 3:08:49
15 08:37:00 40 Viennot, Cyril BEAUVAIS PIC FRA 55:58 4:44:51 2:51:56
09:42
The top-15 women:
1 08:55:08 102 Wellington, Chrissie Feltwell NOR GBR 1:01:03 4:56:53 2:52:41
2 08:57:57 101 Carfrae, Mirinda Boulder CO USA 57:17 5:04:17 2:52:09
3 09:03:29 107 Cave, Leanda Tucson AZ USA 53:54 4:58:41 3:06:36
4 09:06:57 112 Joyce, Rachel London GRE GBR 53:56 4:58:57 3:09:55
5 09:07:32 103 Steffen, Caroline Spiez BE SWI 57:15 4:50:26 3:15:17
6 09:15:00 105 Thuerig, Karin Retschwil LUC SWI 1:12:19 4:44:20 3:13:31
7 09:15:17 113 Tajsich, Sonja Sinzing GER 1:06:57 4:58:55 3:04:47
8 09:17:56 116 Wurtele, Heather Kelowna BC CAN 58:43 4:59:10 3:15:29
9 09:18:11 123 Snow, Caitlin Brockton MA USA 58:47 5:20:57 2:53:51
10 09:19:52 117 Berasategui, Virginia Bilbao BIZ ESP 58:44 5:03:31 3:12:50
11 09:22:07 114 Morrison, Catriona Broxburn WES GBR 1:01:02 5:01:45 3:13:18
12 09:28:21 118 Deckers, Tine Kessel-Lo VLA BEL 1:04:53 5:00:04 3:19:09
13 09:29:08 110 Williamson, Kelly Austin TX USA 55:49 5:24:29 3:03:33
14 09:31:21 133 Badmann, Natascha Oftringen AAR SWI 1:07:04 5:00:29 3:16:44
15 09:34:06 128 Ellis, Mary Beth Superior CO USA 55:54 5:19:15 3:13:48