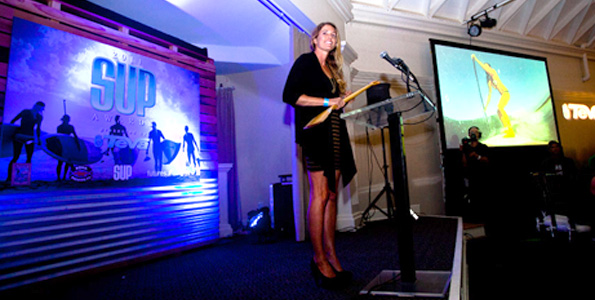 Hawaii 24/7 staff
Hawaii athletes were named the top standup paddlers of 2011 at a special presentation Friday by SUP Magazine and Teva in California.
Jenny Kalmbach, of Kona, took home the top women's honor while 17-year-old Connor Baxter, of Maui, finished tops among men.
"My legs are shaking," Baxter said from the podium. "I'm stoked to see everyone here; it's a real honor. But it's weird to see everyone so dressed up."
The honor adds to an impressive list of career victories for Kalmbach, including the prestigious Molokai 2 Oahu Paddleboard World Championship, California's Battle of the Paddle and the Jever SUP World Cup in Germany.
Kalmbach races Sept. 24 against 1,000 other paddlers in the fourth annual Battle of the Paddle in Dana Point, Calif.
The 2011 SUP Awards crowned not only the year's top paddlers, but also the year's outstanding movies, expeditions and philanthropic efforts.
San Clemente's Candice Appleby and Maui's Talia Gangini finished second and third in the women's category while Dave Kalama and Slater Trout finished 2-3 respectively in the men.
Chris Aguilar's "Destination 3 Degrees" – which features Kalmbach and Morgan Hoesterey as they paddled the Hawaiian Island channels – was named tops in the best film category, while Bart de Zwart's unsupported paddle from the Big Island to Kauai finished atop the expedition category.
Watermans Applied Science Paddle 4 Humanity was named top Philanthropic Effort.
"Standup is such a new sport and I immediately fell in love with it," Aguilar said. "I work a regular job and I really appreciate the opportunity to make this film. I'm inspired by these guys."
Rainbow Sandal's Jay "Sparky" Longley was given the Lifetime Achievement Award for his work in furthering the sport of standup paddling.
"I've never seen such an incredible array of talent in one room," SUP magazine Editor Joe Carberry said of the evening. "It was a great first year and we look forward to celebrating the sport like this for years to come."
— Find out more:
www.supthemag.com/2011-sup-awa…