MEDIA RELEASE
Two Hawaii island hospitals are be recognized this week for providing Level III trauma care.
Hilo Medical Center and Kona Community Hospital have received the designation, which means they have trauma-trained surgeons, emergency department physicians and nurses available 24 hours a day. It also means the hospitals have anesthesia, laboratory and radiology services 24 hours a day.
The Level III designations mean Hawaii County is better equipped to reduce death rates from trauma, which is especially important given the serious motor vehicle and ocean accidents on the island.
Hilo Medical Center celebrated the designation Tuesday. Kona Community Hospital is scheduled to do so Wednesday.
The state Department of Health, Emergency Medical Services and Injury Prevention Branch, has awarded these HHSC community hospitals the designations following an intensive and rigorous two-year survey process.
Hilo Medical Center and Kona Community Hospital Trauma Teams combined responded to more than 464 "activations" in which these teams were fully assembled prior to the patient's arrival at the hospitals.
The two hospitals' Trauma Teams consist of staff and physicians in the Emergency Department, Operating Room, Intensive Care Unit, Radiology/Imaging Department, Respiratory Therapy and Laboratory.
Also included in the HHSC hospitals' Trauma Programs is a community outreach component in which the Trauma Team shares prevention and safety information at local events.
"Kona Community Hospital is now directly connected to a new statewide trauma system which is a great benefit to the care of trauma patients throughout the islands," said Dr. Rich McDowell, KCH's Trauma Program Medical Director. "Through this program, we are able to track the care of trauma patients, have improved communications for patient transfer, and evaluate cases in order to provide the best trauma care possible."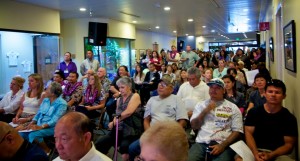 Wendi Wagner, RN, KCH's Trauma Program Coordinator said, "When the multi-disciplinary trauma team is activated and the members report immediately to the emergency department, this response allows for the initial evaluation and stabilization to occur in the most efficient and expedient manner. This organized response enhances our efficiency in direct patient care, as well as improves transfer times to definitive care facilities. Our primary goal is to have better outcomes for those trauma patients in our community."
The incidence of trauma on the Big Island is disproportionate to that on Oahu and neighbor islands.
According to the American College of Surgeons Trauma Systems Consultation Program's report that was instrumental in the drive to achieve Level III status: Injury from motor vehicle accidents accounts for 50.7 percent of deaths for those age 1 to 44, approximately one-third more than those of cancer and heart disease combined.
When the report was issues in 2005, it noted the trauma death rate on neighbor islands was more than double that of Honolulu County. The report correlated the large disparity in the mortality rate from trauma with delayed access to organized, definitive trauma care.
Trauma Activations at Hilo Medical Center and Kona Community Hospital are highly coordinated events in which EMS transmits information on the patient's condition to the hospital while in route as Trauma Team members prepare for the ambulance's arrival.
North Hawaii Community Hospital is expected to be certified Level III by the end of the year.
The only facility with a higher level trauma center in Hawaii is The Queen's Medical Center on Oahu.