MEDIA RELEASE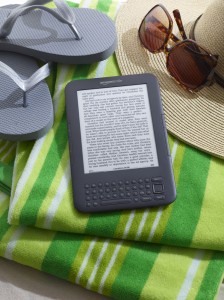 Kindle users will be delighted to know that beginning later this year, they will be able to borrow eBooks from Hawaii State Public Library System (HSPLS) libraries, thanks to an agreement reached today between Amazon and OverDrive, the primary provider of eBook content to libraries nationwide.
The Kindle Library Lending program will be launched once Amazon and OverDrive work out details and integrate and consolidate compatible eBook technology.
"We are very excited that for the first time, our patrons with Kindle eBook readers will be able to access, download and enjoy our outstanding collection of OverDrive eBooks," said State Librarian Richard Burns. "While eBooks still represent a small percentage of our total circulation, they comprise the fastest-growing segment."
Over the past year, libraries have seen impressive increases in circulation as eBooks and e-readers have surged in popularity, and demand for library e-books has surged along with them. In 2010, OverDrive reported 200% more library eBook checkouts compared to 2009, and these figures are certain to climb even higher with the addition of Kindle, which is the world's most popular eBook reading device.
In Hawaii, HSPLS' circulation of eBooks has grown steadily, with more than 8,500 eBooks borrowed in March 2011, the highest one month total since the launch of the eBook collection in Hawaii's public libraries in 2005.